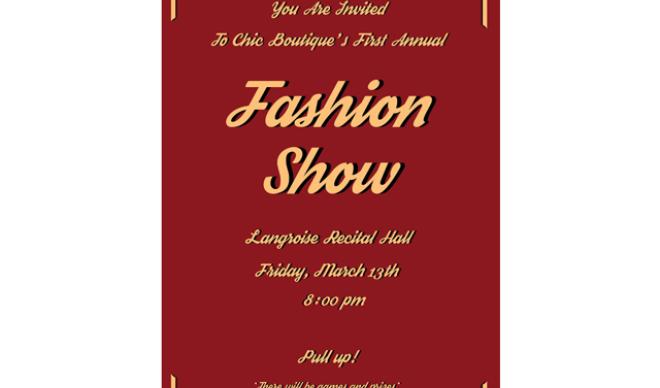 Members of the campus community will take to the stage, modeling clothing from Chic Boutique during the club's first-ever fashion show Friday night.
Doors will open at 7:30 with the show beginning at 8:00 in the Langroise Recital Hall. Along with modelling, the Chic Boutique will also be offering games and contents, with prizes available throughout the fashion show. The fashion show is being held in the hope to bring more awareness to both the campus' Chic Boutique storefront and the environmental benefits of recycling clothes.
"To show that even donated items can be cool," Suman Dhungana, the club's founder, said of the goal. "Even the things that one person doesn't want can be nice to someone else."
Chic Boutique is a club at The College of Idaho, ready to make small steps towards reducing factory emissions. It got its start because Dhungana saw an opportunity.
"As a club we started in 2017. We came up with the idea because we used to have a Chic Boutique at my high school," Dhungana said. "Me and another person wanted to make one here, we have also reached out to families in the community and try to help them."
Chic Boutique has a campus storefront that is open to anyone, regardless of need, that opened in September 2019.
"That day was a big day for us, to be able to open a store for people, it took a while," Dhungana continued. "We try to open it once every two weeks, when we get new donations. We try to open it more often, but if there's not many donations, we try to make sure it's open once every two weeks."
Everything offered in the storefront is free of cost, at one point the club asked for a small donations, but after realizing they were getting things for nothing, they decided opening the store of everyone was the best way to help the people. For the club, the Chic Boutique storefront is a small step towards reducing factory emissions, with small steps they hope to make a bigger difference, which everyone can help make by donating unwanted clothes rather than throwing them away.
The College of Idaho has a 129-year-old legacy of excellence. The College is known for its outstanding academic programs, winning athletics tradition and history of producing successful graduates, including seven Rhodes Scholars, three governors, and countless business leaders and innovators. Its distinctive PEAK Curriculum challenges students to attain competency in the four knowledge peaks of humanities, natural sciences, social sciences and a professional field—empowering them to earn a major and three minors in four years. The College's close-knit, residential campus is located in Caldwell, where its proximity both to Boise and to the world-class outdoor activities of southwest Idaho's mountains and rivers offers unique opportunities for learning beyond the classroom.  For more information, visit www.collegeofidaho.edu. 
Story written by Jordi Stuart, College of Idaho Marketing & Communications intern