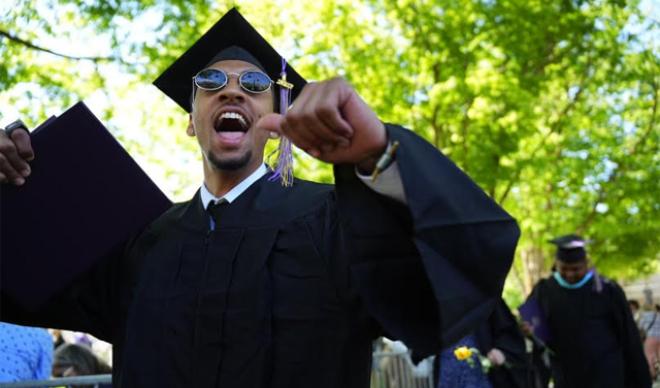 More than 220 students walked across the steps of Boone Hall on Saturday and, in doing so, became new members of the alumni family of The College of Idaho at the school's annual commencement ceremonies.
Most earned either a bachelor of arts or a bachelor of science degree. Some earned a Master's degree from one of the College's education graduate programs. Every one of them left campus after the event with their own story.
Camden Chose will return to campus next fall for graduate school, but that didn't stop his family from traveling in from southern Oregon and California to see him put on the cap and gown.
"My parents are here and two sets of aunts and uncles," said Chose, who graduated with a degree in business administration. "One of my aunts is actually an alumnus of the College (Gail Stevens), she graduated in 1975."
Erica Kyle is also continuing on but she'll be moving to New York for the next phase of her academic career. Kyle has earned a math-physics degree from the College but will next attend Columbia University of the Ivy League to complete her engineering degree as part of a dual-degree program between the two institutions.
"I was a lot more nervous than I thought I'd be," Kyle admitted of the moment when it was time to walk across the stage to accept her diploma from co-presidents Jim Everett and Doug Brigham. "All your friends and family are here so it's exciting."
Keagan McCoy accepted his diploma with a degree in exercise science. The all-conference football performer was looking forward to spending time with friends and family following the important day.
"The day has been pretty busy, they had us up early to take pictures this morning," McCoy said with a smile. "Now I'm going to go have a good grad party."
Makenzie Stapley was also busy. On top of donning the cap and gown to accept her diploma after graduating with a degree in math-physics, she also played in the College's band, which provided music for the ceremony.
"I was just thinking of the steps to get through it, it didn't hit me until I got back in my seat, I'm done, I've graduated," Stapley said. "From that point on, it was real. All sorts of emotions."
Christian Garcia and Omotayo Akingba shared the stage as co-student speakers at the ceremony, talking of the adversity the Class of '22 had overcome.  Thomas Bartlett was the recipient of the Dean's Award and Josh Andersen received the Distinguished Senior Award.
Bea Black of the Women's & Children's Alliance and Nora Carpenter of the United Way of the Treasure Valley received Presidential Medallions. Then, former Caldwell mayor Garret Nancoles and Marie Osborn, the first nurse practitioner in the state of Idaho, were each awarded honorary degrees.
Excitement, emotions, and energy. When it was all done, it was a good day to celebrate the College's Class of 2022.
"It was a lot of fun," Chose beamed. "It was a really fun experience."
To view class group photos from the Class of 2022, click here. To view individual graduates after crossing the stage, click here. If you'd like to hear from some members of the Class of 2022, click here.
The College of Idaho has a 130-year-old legacy of excellence. The College is known for its outstanding academic programs, winning athletics tradition, and history of producing successful graduates, including seven Rhodes Scholars, three governors, and countless business leaders and innovators. Its distinctive PEAK Curriculum challenges students to attain competency in the four knowledge peaks of humanities, natural sciences, social sciences, and a professional field—empowering them to earn a major and three minors in four years. The College's close-knit, residential campus is located in Caldwell, where its proximity both to Boise and to the world-class outdoor activities of southwest Idaho's mountains and rivers offers unique opportunities for learning beyond the classroom. For more information, visit www.collegeofidaho.edu.