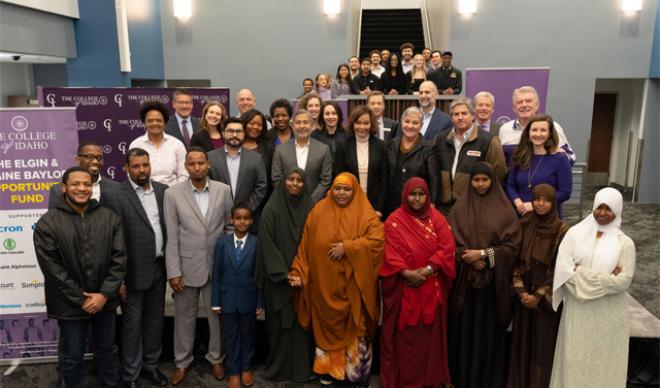 The College of Idaho has announced the formation of an endowed scholarship fund designed to support underrepresented and under-resourced students, named after the late College of Idaho student athlete Elgin Baylor and his wife Elaine. The Elgin & Elaine Baylor Opportunity Fund has a goal of a $25 million endowment that will be used to fund 44 students with financial need from under-represented populations with full-tuition scholarships to attend the College. The effort has been championed by College of Idaho Board of Trustee member Elaine Baylor and supported by many of the most notable corporations based in Idaho.
Today, CEOs and leadership individuals from Micron Technology, Blue Cross of Idaho, Boise Cascade, St. Alphonsus Health System, Idaho Power, St. Luke's Health System, the J.R. Simplot Company, Albertsons, Kount, The Dignitas Agency, Cradlepoint and Crookham Company all stood on a stage together to support the Elgin & Elaine Baylor Opportunity Fund and to send a message to the rest of the country that Idaho is a welcoming state that values education and diversity. The news event was held on the campus of Blue Cross of Idaho in Meridian.
Click here to see a full gallery of photos from the event.
To date, more than $1 million has been raised for the Fund that will identify young people, primarily from Idaho but also nationwide, who are underrepresented and under-resourced and give them full-tuition scholarships to attend The College of Idaho in Caldwell.
Micron Technology President and CEO, and Chairman of the Micron Foundation Board, Sanjay Mehrotra, was instrumental in driving the effort alongside multiple Idaho-based CEOs to support this fund, a reflection of Idaho businesses' commitment to increasing access to post-secondary education for historically underrepresented populations.
"The Micron Foundation is honored to support the Elgin & Elaine Baylor Opportunity Fund. There is an abundance of brilliant and diverse students who may not be able to afford an education in Idaho. We want them to know they are welcome here, and this scholarship helps do just that. Helping more students reach their full potential is critical to the success of our businesses and our nation," Mehrotra said.
Elgin Baylor is considered one of the greatest basketball players of all time, and he received his start at The College of Idaho in 1954. A full decade before the passing of the Civil Rights Act (1964), Baylor had the desire to play college basketball, but due to segregation, was barely recruited out of high school. When he was offered an opportunity to play basketball and attend school at The College of Idaho, he made the long journey from Washington D.C. to play on one of the few desegregated college basketball teams in the nation. He led a team of six black players – leading the way for diversity at every level. Baylor credits his time at the College with giving him the opportunity to change his story and set the tone for his remarkable legacy of perseverance and success. He only played one year at the College, and still holds many of the school's basketball records.
Baylor wrote this about his time at the College: "It feels as if I have wandered into a private and exclusive members-only club, but rather than feel intimidated or excluded, I feel invited." It is in the spirit of this sense of welcoming and inclusion that the fund is named to honor the opportunities experienced by Elgin and his wife Elaine.
Elaine Baylor was also a trailblazer, eschewing a full-ride scholarship in chemistry at a Historically Black College and University (HBCU) to instead attend Newcomb College in New Orleans as one of the first students of color. Both Elaine and Elgin valued their ground-breaking experiences and dedicated their lives to creating paths for others.
"I am inspired by and grateful for the unified outpouring of generous support from CEOs and public sector leaders in Idaho for the Elgin & Elaine Baylor Opportunity Fund," Elaine said. "Elgin came to The College of Idaho in 1954. It was where he first experienced a sense of belonging and was embraced by the entire community. The opportunity to attend The College of Idaho is where it all started. As one of the first Black players in the NBA, Elgin created a path that so many others have followed. Elgin's acrobatic, above-the-rim style of play revolutionized the game and served as an example for many players, even today. He would be so happy to have this scholarship fund as a part of his legacy because Elgin really believed in the value of higher education.
"Our lives were profoundly influenced by the opportunities provided to us. We both were grateful and willing to work hard to take advantage of opportunities, which were hard to come by in the 50s and 60s. Without those opportunities, neither of us would have had the wonderful life we had together. I know if Elgin were here today, he would agree and say how thrilled we are to be a part of creating opportunities for students for generations to come – the opportunity to attend a great school that produces amazing students like our recent Rhodes Scholar, Kaya Evans. And to attend a school that has a long history of serving young people who simply otherwise would not have access to all The College of Idaho has to offer. We want Idaho to be recognized for the welcoming state of opportunity that it is. On behalf of my beloved late husband, Elgin, and myself, you have our heartfelt gratitude."
The first recipient of the Elgin & Elaine Baylor Opportunity Fund has already been selected: Nimo Abdi of Capital High School. Abdi was four years old when she arrived in the United States and spent years learning a new language and culture. Over those years, Abdi developed a work ethic of learning more than what was taught in the classroom. She plans to pursue a career in microbiology research. "With this scholarship, I will be eager to apply the knowledge I attain in college in pursuit of bettering tomorrow – not only for my home community, but also for the world," she said.
Chief executives from the largest private employers in the state of Idaho gave their full support to the establishment of the scholarship and the corresponding message of inclusivity they are inspiring in Idaho to attract and retain not only deserving students, but valuable leaders and employees as well.
"The Blue Cross of Idaho Foundation for Health has been supporting educational opportunities for Idaho students and the purpose of the Elgin & Elaine Baylor Opportunity Fund aligns with our mission," said Charlene Maher, president and CEO of Blue Cross of Idaho. "The College of Idaho has a long history of providing opportunities for all. From College of Idaho's founding, with the first graduating class being all women, to 1954 and the Elgin Baylor story, to the 2020s when the College was recognized as No. 1 in the country for 'Social Mobility.' We are honored to be part of the Elgin & Elaine Baylor Opportunity Fund."
"We know that diversity creates an incubator for incredible innovation and creativity that is a cornerstone and critical to the business community," said Odette C. Bolano, President and CEO of St. Alphonsus Health System. "To that end, we must create an avenue for underrepresented, talented young adults to be given the opportunity to develop and be poised to contribute in our communities. We believe that The College of Idaho has a long history of building a welcoming and inclusive environment that will move us forward in retaining and recruiting talent for our great state of Idaho."
The College of Idaho currently has an international student population of 18 percent, with over 81 countries represented among its approximately 1,100 undergraduate students. Established in 1891, the College was recently awarded the distinction as the no. 1 school in the nation for social mobility (U.S. News & World Report).
"The College of Idaho's ongoing commitment to providing opportunity to all aligns with our thoughts at the J.R. Simplot Company," said President and CEO Garrett Lofto. "Just as education enhances knowledge from exposure to a wider array of thinking, a more diverse and inclusive workforce brings fresh ideas from varying perspectives that lead to big gains in business. Elgin Baylor thrived on the basketball court because of his amazing athleticism and leadership, but also because kind people gave him an opportunity. That's a good lesson for all of us."
"As a company with operations throughout Idaho and across North America, the success of our business depends on attracting, developing, and retaining a talented workforce," said Boise Cascade CEO Nate Jorgensen. "Access to a quality educational experience is an important component in preparing our next generation to contribute to our economy and communities. We're honored to support The Elgin and Elaine Baylor Opportunity Fund to create a pathway for historically underserved student populations to achieve their career aspirations at The College of Idaho." 
"At Idaho Power, we know that a healthy, prosperous Idaho depends on a skilled and knowledgeable workforce," said Idaho Power President and CEO Lisa Grow. "We are honored to support The College of Idaho's Elgin & Elaine Baylor Opportunity Fund, which will provide better opportunities for all students in our state to learn and grow."
"The College of Idaho has long taken an inclusive approach to welcoming, supporting and recognizing students of all backgrounds and abilities," said St. Luke's President and CEO Chris Roth. "St. Luke's is honored to help further these efforts by supporting the new Elgin & Elaine Baylor Opportunity Fund, enabling outstanding students to pursue higher education and training in Idaho. St. Luke's is committed to improving the health of the communities we serve – and caring for all. Investing in our future, with an emphasis on diversity and inclusion, will drive our ability to meet the health care needs of our communities, and The College of Idaho is a demonstrated leader in supporting Idaho's workforce development."
"At Albertsons Companies, building belonging is at the core of what we do," said Susan Morris, EVP and COO of Albertsons Companies. "We know a diverse and inclusive community builds a stronger foundation based on respect, dignity, and trust, for future growth. We are honored to support the Elgin & Elaine Baylor Opportunity Fund and strengthen the future leaders of Idaho."
"Cradlepoint, part of Ericsson, is proud to support the Elgin & Elain Baylor Opportunity Fund to ensure that The College of Idaho continues to lead in bringing greater diversity and inclusion to Idaho," said George Mulhern, CEO of Cradlepoint. "Advancing diverse higher education through institutional transformation should be a top priority for everyone."
"As a lifelong resident of Caldwell, Elgin's quote on feeling welcome really spoke to me," Crookham Company CEO George Crookham said.
"The Dignitas Agency is honored to be a participant in the Elgin & Elaine Baylor Opportunity Fund," said Angela Taylor, founder and partner of Dignitas. "We wholeheartedly believe in The College of Idaho's mission and are encouraged by the opportunities talented students from Idaho and around the country will have to continue their learning journey due to the doors the fund will open."
Not only are Idaho business leaders giving their support to the Elgin & Elaine Baylor Opportunity Fund, but also former Idaho governor and College of Idaho alumnus C.L. "Butch" Otter '67. "Once again the Baylor family is stepping forward to slam dunk another chapter in their College of Idaho legacy," Otter said. "Go Yotes!"
To learn more about the Elgin & Elaine Baylor Opportunity Fund please contact Director of Development Deidre Friedli at [email protected] or 208-459-5025.
To donate to the fund, please go to this link: https://www.givecampus.com/campaigns/34944/donations/new
The College of Idaho has a 132-year-old legacy of excellence. The College is known for its outstanding academic programs, winning athletics tradition, and history of producing successful graduates, including eight Rhodes Scholars, three governors, and countless business leaders and innovators. Its distinctive PEAK Curriculum challenges students to attain competency in the four knowledge peaks of humanities, natural sciences, social sciences, and a professional field—empowering them to earn a major and three minors in four years. The College's close-knit, residential campus is located in Caldwell, where its proximity both to Boise and to the world-class outdoor activities of southwest Idaho's mountains and rivers offers unique opportunities for learning beyond the classroom. For more information, visit www.collegeofidaho.edu.