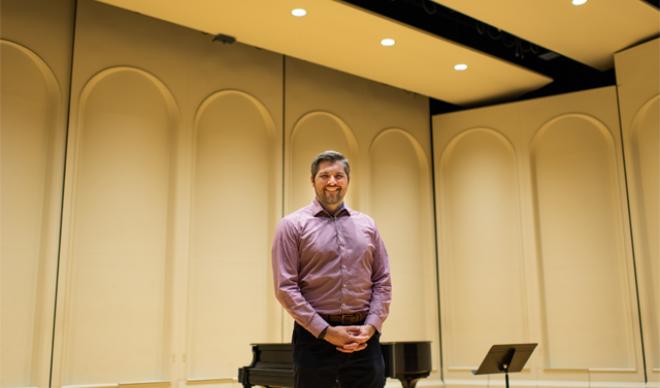 Grant Farmer joined The College of Idaho's staff as choral director almost a year ago. And he's already branching out into the community.
"I like to have a leg out in the community," Farmer said. "This provides me that opportunity."
He's been named the Interim Music Director of the Boise Philharmonic Master Chorale for the 2021 – 2022 concert season. The group generally performs with the Philharmonic orchestra with ages of participants ranging from roughly 18 years old and up. The College also has an association with the Philharmonic via the Langroise Trio, which performs regularly with the group while working with students at the College. Likewise, Farmer will continue at the College while adding the duties for his new role. While serving as an educator as a visiting assistant professor of music, he also directs the College's Chamber Singers and Chorale.
Farmer is replacing Dr. Jim Jirak, who had been the director of the Philharmonic's Master Chorale since 1996. Several local choir directors were considered for the position but, ultimately, Farmer was offered the opportunity.
"It's a real honor. It's something I've been looking forward to being able to do," Farmer continued. "I didn't think I'd be able to do it this soon (after) moving here, but the opportunity came open."
You can hear more from Farmer about the opportunity and how it could directly impact the campus community in this video.
The Master Chorale is an audition-based group that is open to anyone. To learn more about the Boise Philharmonic's upcoming schedule, click here.
The College of Idaho has a 130-year-old legacy of excellence. The College is known for its outstanding academic programs, winning athletics tradition, and history of producing successful graduates, including seven Rhodes Scholars, three governors, and countless business leaders and innovators. Its distinctive PEAK Curriculum challenges students to attain competency in the four knowledge peaks of humanities, natural sciences, social sciences, and a professional field—empowering them to earn a major and three minors in four years. The College's close-knit, residential campus is located in Caldwell, where its proximity both to Boise and to the world-class outdoor activities of southwest Idaho's mountains and rivers offers unique opportunities for learning beyond the classroom. For more information, visit www.collegeofidaho.edu.