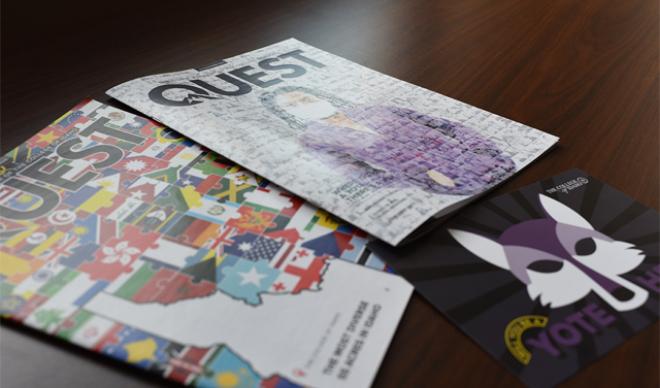 The College of Idaho earned a record number of awards in the 2020-21 CASE Region VIII awards, doubling the overall number of awards over its previous best showing, and included its first-ever gold award.
CASE – The Council for Advancement and Support of Education – is a worldwide non-profit association for educational advancement. Each year, the association hands out awards for a variety of disciplines such as Advancement Services, Alumni Relations, Communications, Magazines, Marketing, Video, Publications, Writing, and others. The awards follow an Olympic-medal format with gold representing the highest honor, silver for the next level, and bronze for the third level. The College competes in District VIII which covers the Pacific Northwest of the U.S. and Western Canada.
The most awards in a single year prior to 2020 by the College were three silver awards in 2019. This year, the College Relations team (consisting of Alumni & Parent Relations, Development and Marketing & Communications) earned six awards: one gold, four silver, and one bronze.
The College's first-ever gold was awarded to the "Yote Hero" Give Day Fundraising Campaign headed up by Boone Fund Director Lauren Schilli '16 in the category of "Fundraising on a Shoestring." According to the judges' comments, the campaign was a "great effort on a limited budget. It's impressive to exceed goals with little additional spending."
The other awards were in the following categories:
Communications Pivot – Silver Award: A Coyote A Day video project

Design/Covers – Silver Award: Quest Magazine Spring/Summer 2020 Cover

Magazines (Alumni/General Interest 2x per year) – Silver Award: Quest Alumni Magazine

Magazines on a Shoestring – Silver Award: Quest Alumni Magazine

Video on a Shoestring – Bronze Award: Welcome Week video
"In a year that was so challenging for the institution as a whole, including our entire College Relations team, receiving this type of recognition was a breath of fresh air," said Director of Marketing & Communications Joe Hughes. "Up until last year, the best the school had ever received through CASE was a single silver award. To not only see the first gold in the College's history but four silver awards and a doubling of the total number of awards, it shows the excellent work this team put forth during a difficult time."
The College of Idaho is traditionally one of the smallest schools in the awards competition, going up against large state schools from multiple western states and Canadian provinces. In the state of Idaho, the six awards won by the College were more than all other schools combined. "That is another reason why this recognition is so gratifying," Hughes said. "Our team is tiny compared to virtually every other school that submits for the competition, yet we still produce quality work that stands apart."  
The College of Idaho has a 130-year-old legacy of excellence. The College is known for its outstanding academic programs, winning athletics tradition, and history of producing successful graduates, including seven Rhodes Scholars, three governors, and countless business leaders and innovators. Its distinctive PEAK Curriculum challenges students to attain competency in the four knowledge peaks of humanities, natural sciences, social sciences, and a professional field—empowering them to earn a major and three minors in four years. The College's close-knit, residential campus is located in Caldwell, where its proximity both to Boise and to the world-class outdoor activities of southwest Idaho's mountains and rivers offers unique opportunities for learning beyond the classroom. For more information, visit www.collegeofidaho.edu.