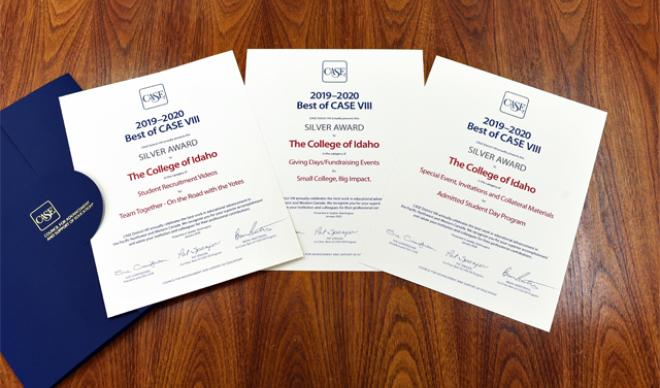 The College of Idaho earned three silver awards at the 2019-20 "Best of CASE" awards, its best-ever showing.
CASE – The Council for Advancement and Support of Education – is a world-wide non-profit association for educational advancement. Each year, the association hands out awards for a variety of disciplines. The awards follow the normal Olympic-medal format. Gold for top honors, silver for runner-up, and bronze. The College competes in District VIII which covers the Pacific Northwest of the U.S. and Western Canada.
The College's three silver awards were:
Admitted Student Day program produced by Hannah Matsen, Anne Whitwood, Brian Bava, Joe Hughes, Adam Eschbach and Will Hoenike.

Student Recruitment Videos for Adam Eschbach's "Team Together – On the Road with the Yotes." (Watch the video here)

Giving Day/Fundraising Events for the "Small College, Big Impact" campaign produced by Lauren Schilli, Jack Cafferty, Heidi Jewell, Barry Fujishin, Marty Holly, Robert Madden and Rebecca Wilhite.
"It is important to note that The College of Idaho is competing against schools with much larger staff sizes and budgets, which makes it that much more gratifying when we are recognized for quality work," said Joe Hughes, the College's director of marketing and communications. "The best the College has ever done previously in the CASE Awards is a single silver award. So for the College to win three silvers in the same year is particularly rewarding."
Here is a complete list of the 2019-20 award winners.
The College of Idaho has a 129-year-old legacy of excellence. The College is known for its outstanding academic programs, winning athletics tradition and history of producing successful graduates, including seven Rhodes Scholars, three governors, and countless business leaders and innovators. Its distinctive PEAK Curriculum challenges students to attain competency in the four knowledge peaks of humanities, natural sciences, social sciences and a professional field—empowering them to earn a major and three minors in four years. The College's close-knit, residential campus is located in Caldwell, where its proximity both to Boise and to the world-class outdoor activities of southwest Idaho's mountains and rivers offers unique opportunities for learning beyond the classroom.  For more information, visit www.collegeofidaho.edu.