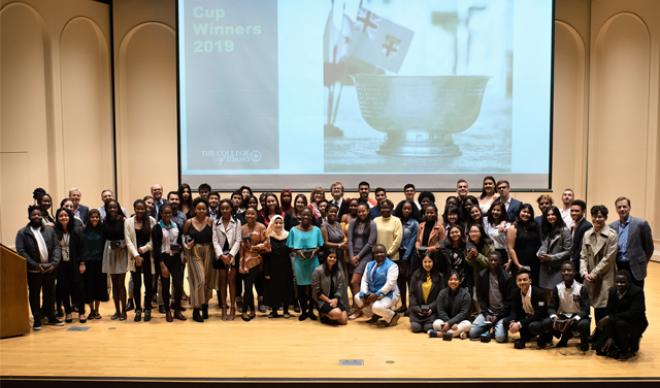 The College of Idaho has won the Davis Cup for the first time in the cup's 20-year history, and with it, recognition as the American school with the highest enrollment of first-year Davis United World College (UWC) Scholars. The College finished in second place last year by one student to the University of Oklahoma as the Sooner state won its sixth-straight Davis Cup. However, behind the largest new class of international students in school history, The College of Idaho won with the highest total of new Davis scholars in the history of the Davis Cup award. The College brought in 69 new Davis Scholars, with the previous high being 63 by Oklahoma in the fall of 2017.
"We are extremely proud of The College of Idaho for its deep commitment to the twin objectives of our program—to provide scholarship support for deserving students and to help our American partner schools like The College of Idaho to globalize their campus communities," said Davis UWC Scholars Program founders Mr. Shelby M.C. Davis and Dr. Philip O. Geier. "It is impressive for such a relative small partner school to bring in 69 first-year students, exceeding the totals of over 90 partner colleges and universities across the U.S. We send our best wishes to all at The College of Idaho for demonstrating such a profound commitment to diversity and inclusiveness and believe this will contribute to a better future for all around the world."
"Our first class that arrived in 2007 was only six students, so to see it grow to the level it is today is particularly rewarding," said the College's VP of Enrollment Management Brian Bava. "This growth also demonstrates how building a sustainable community of international students over time has attracted more students each year culminating in this year's record enrollment. This honor exemplifies The College of Idaho's global mindset and forward-thinking approach in welcoming international students to Caldwell, Idaho."
The Davis Cup is awarded each year to the school that enrolls the most first-year Davis Scholars. The Davis UWC Scholars Program was co-founded in 2000 by Davis and Geier and has grown to become the largest privately-funded international undergraduate scholarship program in the world. There are nearly 100 American college and university partners who enroll Davis Scholars, including schools like Princeton, Yale, Duke, Columbia, Stanford, MIT, Johns Hopkins and many others.
"We are thrilled to win this honor and so grateful for the tremendous support and vision provided by Shelby Davis and Phil Geier," said co-presidents Doug Brigham and Jim Everett. "What they are doing is not only changing lives, they are helping to promote global peace. They have helped change the culture on our campus to be one where everyone has a global mindset and that helps not only our Davis students it helps our students from Idaho and the western United States."
Josh Andersen is a sophomore Gipson Honors student from rural Oregon and can attest to the greater perspective he has learned while sharing the classroom with viewpoints from around the world. "When I hear about developments in Nigeria, I'll think about my friends I know from there, "Andersen said. "When I hear about developments in Costa Rica and Panama, I'll think about it. I'll think about my friends from Peru and Chile and Argentina. There are faces associated with these places now."
The Davis Cup win by The College of Idaho is significant considering its total enrollment of just 1,091 students, much smaller than the 31,702 total enrollment figure of former Davis Cup winner Oklahoma, which finished second this year with 65 first-year matriculants. 
"What makes The College of Idaho the greatest fit of all is the people of the campus," said Davis Scholar Azhar Koshkimbayeva, a senior from Kazakhstan. "This is the place one can call home because of strong friendships across the hallway, Yote (short for Coyote, the school's mascot) spirit at basketball games, debates with professors after class, and dinners together at the cafeteria. The College of Idaho offers a variety of academic passions to pursue, that come with the whole Yote experience as a bonus."
The total number of Davis Scholars at The College of Idaho in the fall of 2019 is 172 and they represent 74 different countries. A full 18-percent of the College's undergraduate population is international students (not all are Davis Scholars) representing 88 different countries.
"For me, I feel immensely blessed and grateful for being a Davis Scholar because it has helped me get closer to my dreams," said Nour Ibrahim, a sophomore from Lebanon. "It has given me the motivation to keep striving and doing my best both academically as well as socially. The College of Idaho has become a second home for me and it has encouraged me to discover myself by providing opportunities. In addition, I have created strong connections with both local and international communities." 
United World College was founded in 1962 with a vision to bridge social, national and cultural divides caused by the Cold War. There are currently 18 UWC schools around the world that offer an educational experience based on shared learning, collaboration and understanding so students will act as champions of peace. A UWC education instills in its students rigorous academic abilities and a capacity to build relationships with people from a variety of backgrounds.
"I know the skill development that happens in the UWC in terms of being able to be away from home, being in a residential community, being part of a community," said Bava "Why wouldn't you want students like that in a small community like ours?"
"It's no surprise that The College of Idaho won the Davis Cup this year because it embodies all the UWC values with its exceptional inclusiveness and diversity," said Keith Ndlovu, a sophomore from Zimbabwe. "It speaks volumes about the work that's done at school by everyone to make International students feel home away from home, and sends a message to those who haven't even graduated in IB (International Baccalaureate) that being a UWC scholar doesn't end when you graduate, but the legacy of Papa Davis and his values is carried on."
"I rest assured knowing that with this world-class education, I can influence economic policy in my beloved Southern Africa," said senior Lindo Gama. "But more than anything, my mark on this earth, inspired by education and knowledge, will be to leave people more whole than I found them."
A celebration of the record class of Davis Scholars was recently held at the College where all new students were presented a commemorative globe. A link to a photo gallery of the event can be found here.
The College of Idaho has a 128-year-old legacy of excellence. The College is known for its outstanding academic programs, winning athletics tradition and history of producing successful graduates, including seven Rhodes Scholars, three governors, and countless business leaders and innovators. Its distinctive PEAK Curriculum challenges students to attain competency in the four knowledge peaks of humanities, natural sciences, social sciences and a professional field—empowering them to earn a major and three minors in four years. The College's close-knit, residential campus is located in Caldwell, where its proximity both to Boise and to the world-class outdoor activities of southwest Idaho's mountains and rivers offers unique opportunities for learning beyond the classroom.  For more information, visit www.collegeofidaho.edu.