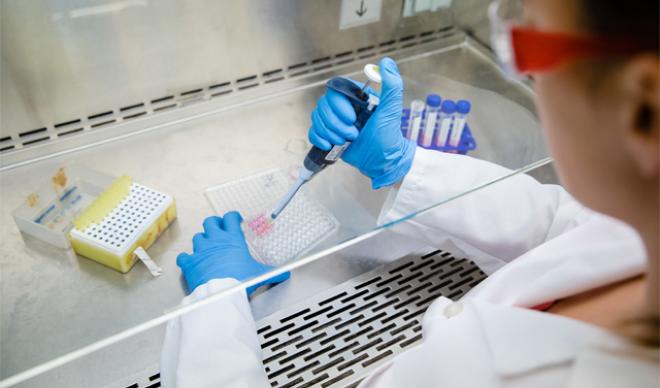 Expanded financial grants mean expanded college research. In turn, expanded college research means expanded opportunities for college students.
Such is the case at The College of Idaho, where biology professors Sara Heggland and Luke Daniels both received new grants from the National Institutes of Health (NIH) totaling more than $270,000 to expand the College's research opportunities. Both awards are one-year supplemental awards to the College's current Idaho INBRE (IDeA Network of Biomedical Research Excellence) program. The grants will allow both professors to continue to hire students to help with the research.
"It's really an integral part of their educational experience, to be in the lab, to do independent research, to go to conferences, and ultimately publish their work," Heggland said of the benefits to students. "To be able to do that as an undergrad really sets them up for success as a graduate student."
Each professor currently has two students working in their lab, performing research. Senior Maddie Villarreal and junior Kaiden Lee are working with Heggland in her ongoing research into toxicity of vaping/e-cigarettes. The grant allows the research to branch from bone toxicity, which is Heggland's primary area of expertise, into the lungs. Daniels, whose expertise is in neuroscience, is working with seniors Shanaya Fox and Caly Thurston on research into Glioblastoma and the grant will fund a collaborative effort between Daniels and Dr. Richard Beard of Boise State University on the impact of Glioblastoma cells on the blood-brain barrier.
"They (the students) actually see what the real process is. Sometimes, you don't know what to do but you have to figure things out," Daniels said of the collaborative research being funded by the grant. "I think it is good and healthy for them to see some interactions where I'm interacting with peers and, together, we're all troubleshooting. So they're really seeing the process of science."
Both Daniels and Heggland expect to add more students because of the grant.
"To me, that's the main benefit, to be able to hire more students," Daniels said. "The biggest benefit is for the students who are directly involved."
Fox, double-majoring in biomedical sciences and psychology and planning to attend medical school, is one of those students.
"Having the autonomy to critically think and conduct experiments while having the mentorship of Dr. Daniels along the way has given me the chance to see what a career in biomedical research could be like," Fox said. "I think other students in the future could greatly benefit from this experience of being immersed in a lab. By getting involved in research with a professor on campus, students can begin to integrate the concepts learned in the classroom with a potential application for a future career in biomedical research, which is a significant opportunity."
Thurston, majoring in biomedical sciences and also planning to attend medical school, is another.
"Research grants enable you to take a more individualistic approach to lab work, an experience you are unable to get in a class lab," she said. "Students can benefit from research grants by gaining an in-depth understanding of the ins and outs of scientific research. "
Idaho INBRE-4 Program is funded under the National Institute of General Medical Sciences of the National Institutes of Health under Award Number P20GM103408. The content is solely the responsibility of the authors and does not necessarily represent the official views of the National Institutes of Health.
The College of Idaho has a 129-year-old legacy of excellence. The College is known for its outstanding academic programs, winning athletics tradition and history of producing successful graduates, including seven Rhodes Scholars, three governors, and countless business leaders and innovators. Its distinctive PEAK Curriculum challenges students to attain competency in the four knowledge peaks of humanities, natural sciences, social sciences and a professional field—empowering them to earn a major and three minors in four years. The College's close-knit, residential campus is located in Caldwell, where its proximity both to Boise and to the world-class outdoor activities of southwest Idaho's mountains and rivers offers unique opportunities for learning beyond the classroom. For more information, visit www.collegeofidaho.edu.