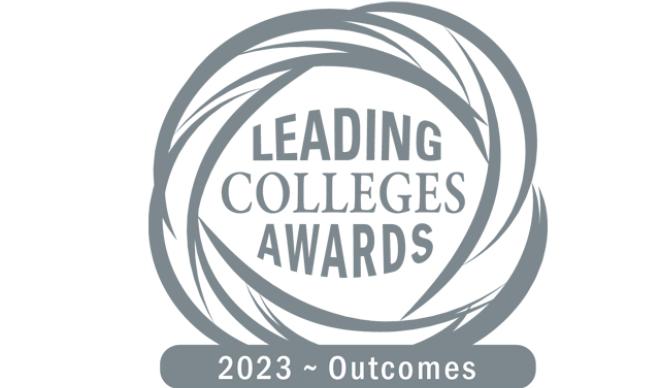 The College of Idaho was one of 27 colleges or universities across 22 states nationwide to be recognized for creating positive outcomes for its students.
The 2023 Leading Colleges Award for Outcomes compiles nominations for institutions of higher learning in four categories: recruitment, retention, social justice, and outcomes. The award the College was nominated for is defined by Leading Colleges as, "student outcomes demonstrating the value of a college degree."
Each award-winner had to be nominated. Those nominations could be submitted by a school counselor, independent educational consultant, community-based organization professional, a faculty or staff member on campus, or the Leading Colleges team.
The award winners are listed alphabetically rather than ranked. Other institutions selected for the Award for Outcomes include Howard University (DC), Colby College (ME), University of Denver (CO), and Reed College (OR).
"It's wonderful to be nominated and recognized by high school counselors, educational consultants, and community-based organizations for our unique PEAK curriculum that prepares students for not just one career, but multiple careers," said Brian Bava, Vice President of Enrollment Management at The College of Idaho. "College of Idaho graduates are especially prepared for the ever-changing global marketplace, and their broad and deep knowledge in the liberal arts and Professional Foundations and Enhancements places them in the perfect space to tackle the challenges of the 21st century."
Leading Colleges is the latest to recognize The College of Idaho this summer:
Inclusion in the Fiske Guide to College as one of the "best and most interesting" colleges in the U.S., Canada, and the United Kingdom.

Ranked No. 26 in Best Colleges & Universities in the West, No. 38 in Best Small Colleges, and No. 45 in Best Value Colleges by College Consensus.

Ranked among top colleges or universities in the Rocky Mountain Region by College Raptor.

Ranked among the top 700 schools by Money Magazine in Money's 2023 Best Colleges.
The College of Idaho has a 132-year-old legacy of excellence. The College is known for its outstanding academic programs, winning athletics tradition, and history of producing successful graduates, including eight Rhodes Scholars, three governors, and countless business leaders and innovators. Its distinctive PEAK Curriculum challenges students to attain competency in the four knowledge peaks of humanities, natural sciences, social sciences, and a professional field—empowering them to earn a major and three minors in four years. The College's close-knit, residential campus is located in Caldwell, where its proximity both to Boise and to the world-class outdoor activities of southwest Idaho's mountains and rivers offers unique opportunities for learning beyond the classroom. For more information, visit www.collegeofidaho.edu.