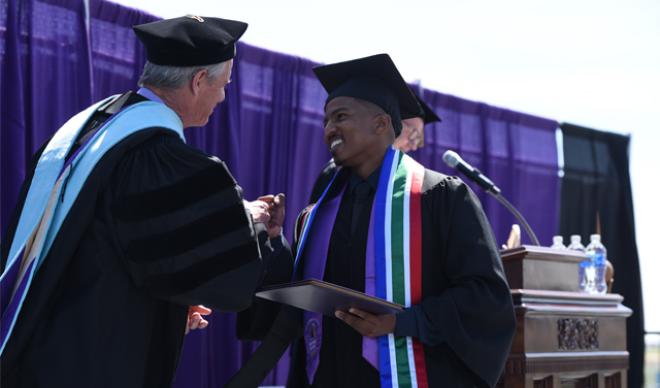 As senior Lindo Zondo wrapped up his student speech, he emphatically shouted, "Go Yotes!"
Almost as if scripted, right as he yelled, a powerful train went by the ceremony at Simplot Stadium in Caldwell. An appearance by a train, perhaps symbolizing that the Yote community is back together and on the right track after 14 months of pandemic-induced separation, changes, and adjustments.
"It means so much more to see everyone, to give them hugs and say congratulations in person and not have to text them," said Shanaya Fox, a member of the class of 2021 who graduated with a double major in biomedical sciences and psychology. "It's more than I could have imagined a few months ago."
Instead of walking across the steps of Boone Hall to receive their diplomas (the College's traditional Commencement venue), graduates made their way across the football turf onto a stage at Simplot Stadium this year. Joining the 199 members of the class of 2021 were 42 members of the class of 2020 to celebrate as well.
"It felt like closure," said Riley Nielsen, a 2020 graduate who returned to participate after earning her degree last spring in creative writing. "It felt like honoring and giving respect to people who deserved it."
Nielsen talked about the opportunity to go through graduation rituals with her Kappa Kappa Gamma sorority sisters, something she did not get to do last spring because of the COVID-19 pandemic. Likewise, Saturday's Commencement ceremony featured two senior speakers – Zondo, representing the class of 2021 and Aurora Cossairt, representing the class of 2020 after she didn't get the opportunity to stand in front of a Commencement audience last spring.
"You feel accomplishment for what we've done, making it through a pandemic and we've stayed strong, keeping with our friends, keeping our College of Idaho community strong," said Andrew Clifford, who majored in chemistry and mathematics-physics and was also named the Deans Award winner for 2021. "It feels amazing."
Along with Clifford's senior award, Fox and Kaya Evans each earned Alumni Distinguished Senior recognition for the class of 2021. Evans spoke of her appreciation for her award, saying she felt humbled to have been selected.
"I knew that there were awards going out but I also knew that they only award it to two people," said the political economy major. "I feel like my class is full of people that are qualified for that award."
As the crowd – and graduates – filed out of Simplot Stadium under the bright sunshine, a common feeling emerged. One of thanks, gratitude, and appreciation.
"I don't think it has hit me yet, there are no words to describe how unexpected it all was," Fox said of her journey at the College. "I think that's what makes it all so beautiful and that's what has been so impactful to me."
Evans was also reflective after the in-person ceremony, attended by hundreds of family and friends.
"That sense of being grateful for things you don't think that you would have is so strong in me right now," she concluded.
To watch the 2021 Commencement ceremony from May 29, 2021, click here.
A gallery of photos from the ceremony can be found here, and downloadable photos of each of the graduates who participated can be found here.
The College of Idaho has a 130-year-old legacy of excellence. The College is known for its outstanding academic programs, winning athletics tradition, and history of producing successful graduates, including seven Rhodes Scholars, three governors, and countless business leaders and innovators. Its distinctive PEAK Curriculum challenges students to attain competency in the four knowledge peaks of humanities, natural sciences, social sciences, and a professional field—empowering them to earn a major and three minors in four years. The College's close-knit, residential campus is located in Caldwell, where its proximity both to Boise and to the world-class outdoor activities of southwest Idaho's mountains and rivers offers unique opportunities for learning beyond the classroom. For more information, visit www.collegeofidaho.edu.