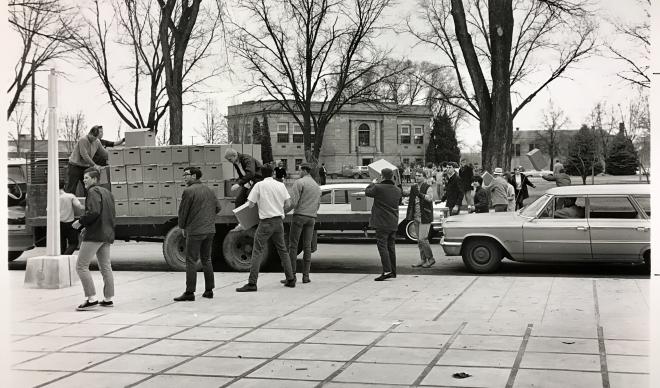 In 1967, a group of students gathered to form a line across The College of Idaho campus, stretching from what is now Strahorn Hall all the way to the N.L. Terteling Library, passing books one by one to what was then the College's newest library.
Fifty-one years after that historic event, the College will once again gather to recreate that historic scene. At 5 p.m. on Feb. 15, the College's Alumni Relations team will hold a new "Book Brigade" event to officially complete the transfer of library books from the Terteling Library to the recently opened Cruzen-Murray Library, which opened its doors on Jan. 31 after almost two years of construction.
C of I alumni have been invited to participate in the event along with current students, staff, faculty and other members of the Caldwell community to gather in front of Terteling Library to form one line leading to the Cruzen-Murray Library. The C of I Marching Band will kick-off the festivities and then march their way toward Cruzen-Murray. From there, books will be passed individually from the start of the line in Terteling, echoing the scene from 1967.
Alumni from all years are invited to join, but the College is excited to have representatives from the Class of 1967 on hand to participate in their second book brigade. All participants in the line will receive special commemorative pins, and those who participated in the 1967 brigade will receive a special ribbon to honor their previous assistance.
Following the completion of the move, cookies and hot chocolate will be available for free inside the Cruzen-Murray Library.
Parking for the event will be available in the College's general parking lot and Jewett parking lot. Golf carts will be available at the general lot to quickly transport guests to the Terteling Library.
Don't miss your chance to be part of history, YoteFam! We hope to see you there!