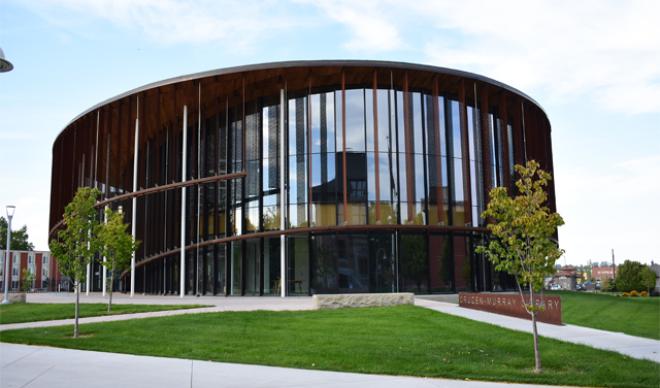 Cruzen-Murray Library on the campus of The College of Idaho was one of five libraries to earn 2022 AIA/ALA Library Building Award for excellence in architectural design from the American Institute of Architects (AIA) and American Library Association (ALA).
The award represents the Library's first recognition at the national level and its first joint recognition from both the architecture and library professions. The facility had previously received recognition at the state and regional level from the architecture profession.
"This award has special meaning to me personally because I have had a toe in both professions. As an undergraduate student I studied architecture before changing directions and attending graduate school in Library and Information Science to become a librarian," said Christine Schutz, the director of Cruzen-Murray Library. "For me as a librarian, the Cruzen-Murray Library has represented an opportunity to re-imagine the possibilities for a library on a small liberal arts college campus and many changes are still ongoing as we grow into the space."
In order to earn this distinction, a library is judged by a seven-person committee on its design achievement, including a sense of place, purpose, ecology, environmental sustainability, and history. Cruzen-Murray Library, a three-story, 60,000 square-foot facility, includes both online and traditional print holdings of books and journals, as well as private and group study areas, a 24/7 study space, multimedia classrooms, a café, and spaces for readings, lectures, and exhibitions. The building was designed by Phoenix-based architectural firm Richärd Kennedy Architects, a nationally recognized group known for its work with libraries and sustainable design. The College broke ground on the library in 2016 and it opened its doors to the campus community in February of 2018. Kreizenbeck Constructors of Boise completed the construction.
The other four libraries to share this recognition with Cruzen-Murray Library are:
Adams Street Library, Brooklyn, New York

Asante Library, Surprise, Arizona

Indian Creek Library, Olathe, Kansas

Martin Luther King Jr. Memorial Library, Washington, D.C.
"The entire Cruzen-Murray Library project, from programming through construction, represented a once-in-a-career opportunity to bridge these two passions of mine," Schutz said. "This award is very much the icing on the cake."
The College of Idaho has a 130-year-old legacy of excellence. The College is known for its outstanding academic programs, winning athletics tradition, and history of producing successful graduates, including seven Rhodes Scholars, three governors, and countless business leaders and innovators. Its distinctive PEAK Curriculum challenges students to attain competency in the four knowledge peaks of humanities, natural sciences, social sciences, and a professional field—empowering them to earn a major and three minors in four years. The College's close-knit, residential campus is located in Caldwell, where its proximity both to Boise and to the world-class outdoor activities of southwest Idaho's mountains and rivers offers unique opportunities for learning beyond the classroom. For more information, visit www.collegeofidaho.edu.