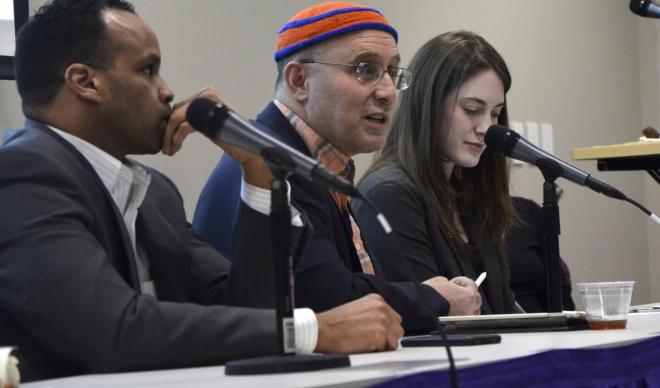 In the wake of the tragic massacres at places of worship in Pittsburgh and Christchurch, New Zealand, The College of Idaho assembled a panel of academic and religious voices to discuss Islamophobia, Anti-Semitism, and the rise of white nationalism in America.
The presentation room of the College's Cruzen-Murray Library last week was filled with those who were still mournful of the recent acts of hate, yet were united in a voice of resilience and a goal of targeting the root causes of injustice.
After 50 people were killed by a white nationalist ideologue in the Christchurch shooting, panel member Phillip Thompson, the former president of the Islamic Center of Boise and a native Idahoan, recalls that within the Islamic-American community there was a feeling of shock. Thompson is also currently the executive director of the Idaho Black History Museum.
Rabbi Daniel Fink of the Congregation Ahavath Beth Israel in Boise agreed with Thompson's sentiments. The Pittsburgh shooting, in which eleven were killed, was also the result of the targeting of the Jewish community by a white nationalist.
"I was shocked, but I wasn't surprised. It sadly isn't surprising," Fink told the audience. "There is a long history of white-supremacist, far-right violence directed against Jews, African-Americans, Muslims, and immigrants."
College of Idaho faculty members Mee-Ae Kim and Elizabeth Imber rounded out the forum's panel, which spoke for about 90 minutes on the causes and consequences of the white nationalist movement and its specific implications for the Islamic, Jewish-American, and immigrant communities.
"Modern Anti-Semitism is politically motivated and discriminates against Jews not only as a religion, but as a race," said Imber, who is the Chair of Judaic Studies at the College. "It is particularly relevant to our discussion of white nationalism. The key to understanding modern Anti-Semitism is that it is not only bigotry, it is a conspiracy theory. It is world view, or secular belief, so to speak, founded on two core beliefs. One, that there is a Jewish conspiracy to control the world, and two, that Jews are a distinct race possessing unique physical and psychological traits."
Rabbi Fink echoed Imber's remarks by referencing "an intrinsic nexus between other kinds of hatred and Anti-Semitism within the white supremacist movement."
Kim spoke of a so-called 'Great Replacement Theory,' where white nationalists fear they are facing extinction from falling birthrates.
"It is important for us to tease out two ideas. One is the idea that there is a 'white race' that is both superior but vulnerable to contamination and demographic decimation," Kim said. "And second, that immigrants pose the most obvious threat to that racial purity. The question is how do we as a nation reconcile these ideas with our historic celebration of immigration history? The answer is that we often do so very poorly."
Kim, in response to a question posed to the panel, mentioned, "I am not sure there is a disproportionate increase in white nationalism. I think this (increase in violence) has to do with the idea that people feel more open to expressing these ideas."
Thompson also struck on the same point.
"They've understood that this old message of white nationalism of hate and the 'skinhead' approach was losing supporters." Thompson noted before adding, "It lulls you into thinking that there is going to be a meaningful conversation somehow based on being rational."
College of Idaho students and local community members showed up to hear the panel members speak. For as many differences as the panel members may have, they all nodded in approval of each other's points.
"Apathy in face of transgression is complicity," Thompson said. "Your silence is taken at the least as your tepid approval. The only 'us and them' is those who espouse white supremacy and those who do not."
"We will all float or we will all sink together," Fink concluded.
The College of Idaho has a 128-year-old legacy of excellence. The C of I is known for its outstanding academic programs, winning athletics tradition and history of producing successful graduates, including seven Rhodes Scholars, three governors, and countless business leaders and innovators. Its distinctive PEAK Curriculum challenges students to attain competency in the four knowledge peaks of humanities, natural sciences, social sciences and a professional field—empowering them to earn a major and three minors in four years. The College's close-knit, residential campus is located in Caldwell, where its proximity both to Boise and to the world-class outdoor activities of southwest Idaho's mountains and rivers offers unique opportunities for learning beyond the classroom.  For more information, visit www.collegeofidaho.edu. 
Story submitted by Tallon Howie, C of I Marketing and Communications Intern