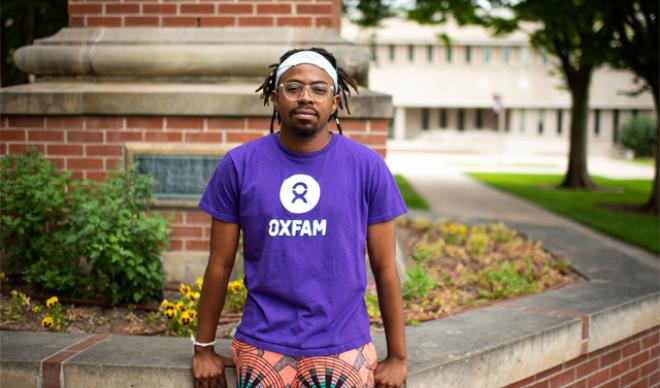 College of Idaho senior Mauzay Dlamini aspires to one day be the Prime Minister of his home country of Swaziland, near the southern tip of Africa.
In the short term, though, Dlamini is taking on poverty and social change in the Caldwell community.
The avenue he's using is a campus club called "Oxfam." The name comes from the Oxford Committee for Famine Relief, founded in Britain in 1942, and Oxfam International was founded in 1995 for greater impact on the international stage to reduce poverty and injustice. Dlamini is the College's club leader and was selected as one of ten national Oxfam CHANGE leaders for 2019.
"I just want people to appreciate each other's differences and come together and learn from each other," said Dlamini, an international political economy major.
He recently spent time in Boston learning more about Oxfam CHANGE, which teaches students leadership and advocacy training. The students, in turn, take that training to each of their respective campuses across the country. He said, at the College, the club has traditionally been international students, but he is hoping to shift that to more of mix of international and domestic students.
"Where we come from, there's a lot of poverty, a lot of injustice," he said of the international core of students. "I would like more local kids to get involved."
Dlamini hopes the Oxfam CHANGE program will help him reach the goal of getting more people in southern Idaho involved. He applied online for the CHANGE program. Of the more than 80 Oxfam clubs at colleges and universities nationwide, Dlamini was one of just ten students selected to travel to Boston.
"They talked to us about how to approach social justice issues and how to talk about them in a way that doesn't offend other people," Dlamini said. "I want to bring that here to campus. I just want to get young people involved."
Dlamini said the diversity gaps on campus are closing, noting that recent incoming classes of students have been open to listening to each other and learning. He also said the club will be hosting events to help promote the feeling of inclusion, discussion, and betterment. There's a variety show in the works where students of all backgrounds will be encourages to participate.
People seeking more information about Oxfam or the variety show should contact Savala DeVoge, the Director of Student Involvement at the College of Idaho.
To learn more about Oxfam, please click here.
The College of Idaho has a 128-year-old legacy of excellence. The College is known for its outstanding academic programs, winning athletics tradition and history of producing successful graduates, including seven Rhodes Scholars, three governors, and countless business leaders and innovators. Its distinctive PEAK Curriculum challenges students to attain competency in the four knowledge peaks of humanities, natural sciences, social sciences and a professional field—empowering them to earn a major and three minors in four years. The College's close-knit, residential campus is located in Caldwell, where its proximity both to Boise and to the world-class outdoor activities of southwest Idaho's mountains and rivers offers unique opportunities for learning beyond the classroom.  For more information, visit www.collegeofidaho.edu.