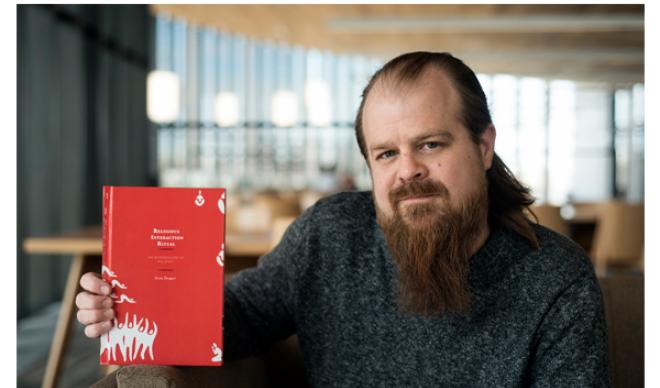 Associate Professor of Anthropology & Sociology Scott Draper didn't even have the opportunity to get nervous before learning he had earned the 2021 Distinguished Article Award from the Association for the Sociology of Religion.
"There is no nomination process, and I had no idea my article was even being considered for an award," Draper said. "So I was pleasantly shocked when I was notified by the ASR (Association for the Sociology of Religion) award committee chair."
Draper's article, "Effervescence Accelerators: Barriers to Outsiders in Christian Interaction Rituals," was a follow-up to his 2019 book, "Religious Interaction Ritual: The Microsociology of the Spirit." The book focuses on rituals from different traditions. In the article, Draper explored worship services with congregations from six different Christian denominations (Catholics, Episcopalians, Brethren, Jehovah's Witnesses, Christian Scientists, and Latter-Day Saints). The article focused on one of the social dynamics explored in his research – barriers to outsiders.
"Barriers to outsiders are cues people send each other during rituals about who does and does not 'belong' in their group," Draper explained. "An ironic and longstanding sociological finding is that these sorts of exclusionary behaviors tend to strengthen enthusiasm and solidarity within an in-group. I framed my study around a basic question: If group enthusiasm and solidarity depend on barriers to outsiders, where does this leave congregations for whom inclusivity is a sacred value? Do some Christian organizations successfully avoid the temptation of ostracizing others, and if so, how do they do it?"
To be considered, the article had to be published in volume 82 of the Sociology of Religion. The criteria used by the committee, as explained by the Association itself, was to evaluate the quality of scholarship exhibited in the article, which may include (but is not limited to) theoretical, empirical, and methodological considerations. Additional consideration was given to the significance of the article's contribution to the sociological study of religion and to broader societal understandings of religion. The award itself was presented at the Association's annual meeting earlier this summer and was just the third article to be recognized since 2017.
"The many examples and quotes I recorded arguably are the heart of the study, and I'm proud of this paper as a piece of qualitative research," Draper concluded. "I could not have accomplished this without the support of my fantastic research assistants, three C of I undergrads (now alumni): Kaelah Bakner '19, Armando Guerrero '21, and Hannah Shand '19." 
Draper's award-winning article can be read here.
The College of Idaho has a 130-year-old legacy of excellence. The College is known for its outstanding academic programs, winning athletics tradition, and history of producing successful graduates, including seven Rhodes Scholars, three governors, and countless business leaders and innovators. Its distinctive PEAK Curriculum challenges students to attain competency in the four knowledge peaks of humanities, natural sciences, social sciences, and a professional field—empowering them to earn a major and three minors in four years. The College's close-knit, residential campus is located in Caldwell, where its proximity both to Boise and to the world-class outdoor activities of southwest Idaho's mountains and rivers offers unique opportunities for learning beyond the classroom. For more information, visit www.collegeofidaho.edu.