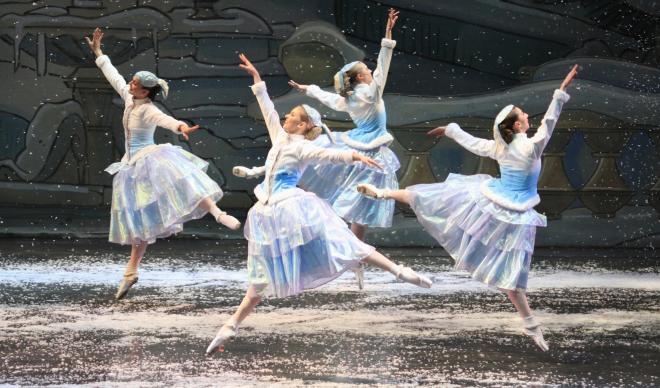 Coming December 5-7th, Caldwell will be host to the twinkling delights of The Nutcracker. This holiday ballet is a beloved tradition for many, and Eugene Ballet Company is dutifully carrying that torch as they tour the Northwest, stopping for three days of performance in The College of Idaho's very own Jewett Auditorium. This masterfully choreographed piece will surely be the artistic highlight of the snowy season. An epic set immerses the audience in the wonder of the Snowy Kingdom and The Land of the Sweets, transforming the stage into a true winter wonderland.
The magic is ushered in by Clara's Tea Party before or after each ballet, a child friendly celebration complete with ballet lessons, face painting, and appearances from The Nutcracker cast! December 7th, The Nutcracker Jr. sweeps across the stage with a one-hour show perfect for families. All the wonder in a smaller shell!
Eugene Ballet has grown to become one of the West's busiest and most versatile dance companies in its
39 years of performance. Their mission is to, "Create, perform, educate, and inspire through the art of dance, and to foster cultural collaborations and increase access to the arts." Jewett Auditorium is their 8th stop on a 15 city tour across Oregon, Idaho, and Alaska. Caldwell is honored to host their talent and invites the Treasure Valley to support and take part in this true ballet classic.
To purchase tickets, visit caldwellfinearts.org or call (208) 459-5275.
Eugene Ballet: The Nutcracker
Dec. 5 & 6, 2017
7:00 p.m.
Jewett Auditorium, C of I
Adult: $25, $30, $35
Child: $15, $20, $25
Nutcracker Junior
Dec. 7, 2017
1:00 p.m. and 6:00 p.m.
Jewett Auditorium, C of I
Adult: $12, $15, $20
Child: $8, $10, $12
Clara's Tea Party
Dec. 5 & 6, 2017
5:30 pm
Dec. 7, 2017
11:30 a.m., 2:00 p.m., 4:30 p.m., 7:00 p.m.
Langroise Center, C of I
All: $6
The College of Idaho has a 125-year-old legacy of excellence. The C of I is known for its outstanding academic programs, winning athletics tradition and history of producing successful graduates, including seven Rhodes Scholars, three governors, four NFL players and countless business leaders and innovators. Its distinctive PEAK Curriculum challenges students to attain competency in the four knowledge peaks of humanities, natural sciences, social sciences and a professional field—empowering them to earn a major and three minors in four years. The College's close-knit, residential campus is located in Caldwell, where its proximity both to Boise and to the world-class outdoor activities of southwest Idaho's mountains and rivers offers unique opportunities for learning beyond the classroom.  For more information, visit www.collegeofidaho.edu.