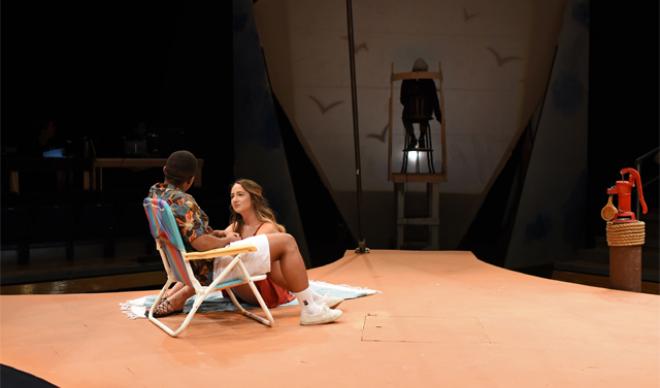 The final performances of The College of Idaho's fall production, "Eurydice" by Sarah Ruhl, will be held this weekend at the Studio Theatre inside the Langroise Center for Performing & Fine Arts.
The show runs Thursday, Friday, and Saturday starting at 7:30 P.M., and a matinee performance on Sunday at 2:00 P.M.
Based off of the ancient Greek myth "Orpheus and Eurydice" which is told from the male perspective, Ruhl's version is told by the female Eurydice's point of view to shift emphasis onto her vulnerability.
Theatre Professor and department chair Michael Hartwell directed and designed the production utilizing the design talents of the theatre faculty, Deborah Hartwell, Thomas Newby and David Garrison. According to Michael Hartwell, "Visually, this play is stimulating. It is musical as well as poetic. It can make you laugh and cry, creating empathy and sympathy all in one scene."
Deborah Hartwell encourages the student body to come see the show to witness some amazing talent, but also because of what "Eurydice" means to the actors. "We hope they share in what these students have to say at this point in time through this play," she said. "This is a tale about love and loss and memories." 
Michael Hartwell would like to acknowledge the students involved in the show: "Becca Raney carries the role of Eurydice while Lindo Zondo plays Orpheus. Brian Jankowski portrays the dear father and Sean Weimer shines as Lord of the Underworld. Lily Kennedy, McKaela Spradlin and Shweta Nikalje are the chorus stones, whose voices can be heard throughout Langroise. Behind and supporting all of this are Aspen Dewitt as Stage Manager, Alex Tarasenko, Walker Goldy and Geoffrey Leishman as assistant stage managers."
Doors open a half hour prior to show time. Tickets can be purchased online or by calling the Box Office at 208-459-5426. Tickets are $15.00 for Adults, $10.00 for seniors, and free for College of Idaho students, staff, and faculty.
The College of Idaho has a 128-year-old legacy of excellence. The College is known for its outstanding academic programs, winning athletics tradition and history of producing successful graduates, including seven Rhodes Scholars, three governors, and countless business leaders and innovators. Its distinctive PEAK Curriculum challenges students to attain competency in the four knowledge peaks of humanities, natural sciences, social sciences and a professional field—empowering them to earn a major and three minors in four years. The College's close-knit, residential campus is located in Caldwell, where its proximity both to Boise and to the world-class outdoor activities of southwest Idaho's mountains and rivers offers unique opportunities for learning beyond the classroom.  For more information, visit www.collegeofidaho.edu. 
Story submitted by Riley Nielsen, Marketing and Communications Intern