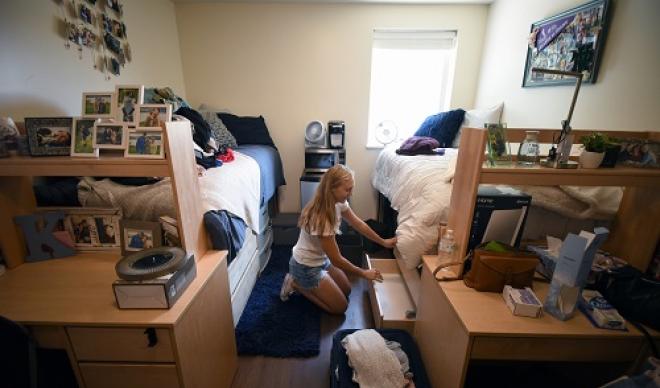 A silent summer in Hayman Hall gave way to a flurry of activity on Friday as The College of Idaho welcomed its newest members of the #YoteFam for Move-In Day, the official start of the College's annual Welcome Week.
The entrance to Hayman Hall was a sea of purple and gold on Friday morning as the new students gathered to enter their new home. Staff members in purple polo shirts greeted the new students under a tall, purple tent, helping the students check-in. Resident assistants wearing purple t-shirts and warm smiles welcomed their new charges, offering to help them with heavy boxes, full suitcases and unwieldy appliances. Many of the students themselves decided to wear purple as they began to settle into their dorm rooms.
"There's just so many new people to meet," said Claire Mason, a freshman from Las Vegas, Nevada with an interest in chemistry. "I think that's what I'm most excited about, just getting out there and saying hi to everyone."
And Mason started with her new roommate at Hayman — fellow freshman Erin Walker of Portland, Oregon, who she had just met the previous night.
"We texted a lot over the summer, but we didn't actually meet until we saw each other in Boise just before we got here," Walker said. "Our families have gotten along great, so that's a good sign."
Walker, who plans to major in psychology, was attracted to the College because of its small size, as well as its innovative PEAK curriculum, which she felt helped the College to stand out among other choices.
"I also wanted to get out of the house," Walker added. "I really want to find my own way, and I feel like I can do that here at C of I."
While Mason and Walker got to know each other as they unpacked their sides of their room, Amy McCoubrey of Boise was still waiting for her two roommates to arrive. She wasn't nervous to meet them, however.
"I've grown up with four siblings," McCoubrey joked. "That's kind of the same thing, right?"
A local student who attended Renaissance High School, McCoubrey said she was most excited about tackling new experiences at the C of I, where she plans to pursue a degree in education.
"C of I covers a lot of topics, and there's so much to explore here," McCoubrey said.
Back on the first floor of Hayman Hall, another local student has already unpacked and is enjoying a quiet moment to himself while his roommate is out. Gabriel Hall of Meridian, Idaho has a spotless room compared to the boxes and bags lining the floors of his neighbors. He even has a functioning mini fridge between his bed and his roommate's bed.
"Honestly, every dorm should have a mini fridge," Hall said. "I couldn't leave home without it."
Hall isn't the only new student valuing a larger item. Maverick Williams of Phoenix, Arizona came to the College to join the baseball team as a pitcher, but his prized possession isn't his glove: it's his television.
"I've got to have my Netflix fix," he joked.
Williams is even more enthusiastic to begin classes on August 30 as he begins pursuing a degree in physical education with a focus in physical therapy.
"Playing sports my whole life, I've had to see doctors for a lot of minor injuries, and they've always helped me get back on my feet," Williams said. "I want to pay that forward."
But while Hall and Williams favored their larger items, Madison Najima of Reno, Nevada couldn't leave home without a very special companion: her stuffed rabbit Tibi, which she's had since she broke her tibia a few years ago.
"She's been with me through a lot, and I couldn't leave her behind," Najima explained.
Najima was attracted to the College because of its successful ski team, but now that she has arrived, she's eager to make friends outside of her teammates.
"Everyone here so far has been really nice," Najima said. "It's a smaller community, but I think it's going to be really supportive."
The students will continue Welcome Week with the McCall Wilderness Experience this Sunday.
The College of Idaho has a 125-year-old legacy of excellence. The C of I is known for its outstanding academic programs, winning athletics tradition and history of producing successful graduates, including seven Rhodes Scholars, three governors, four NFL players and countless business leaders and innovators. Its distinctive PEAK Curriculum challenges students to attain competency in the four knowledge peaks of humanities, natural sciences, social sciences and a professional field—empowering them to earn a major and three minors in four years. The College's close-knit, residential campus is located in Caldwell, where its proximity both to Boise and to the world-class outdoor activities of southwest Idaho's mountains and rivers offers unique opportunities for learning beyond the classroom.  For more information, visit www.collegeofidaho.edu