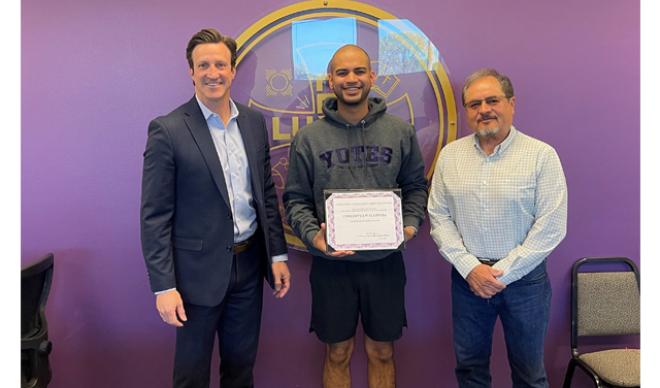 Christian Garcia is the Integrity, Leadership, and Service Award winner for Spring 2022 at The College of Idaho.
Garcia graduated from the College in May with a degree in international political economy. He was selected as a co-senior class speaker at the Commencement ceremony along with serving as the ASCI student body president during his senior year.
The Student Affairs Division recognizes one student each semester for their important contributions to the College's culture. The award is given to students nominated by staff and faculty as someone who best embodies the values of the College community. Those values include community, integrity, leadership, and service. Garcia was nominated by Arnoldo Hernandez, the College's Assistant Dean of Students & Director of Inclusion and Intercultural Engagement.
"Mr. Garcia has been a very strong contributor to campus life as an undergraduate student at the College.  He has been engaged in several student organizations, however, most notably the International Student Organization (ISO), Association of Latino-Americano Students (ALAS), Gender-Sexuality Campus Alliance (GSCA), and the Interfaith Council.  All these organizations are housed in the Inclusion Department and Mr. Garcia has helped lead or participated in numerous programs and events.  He regularly performs in our annual campus Cultural Show, volunteers for Diversity Week, and cooks for students and faculty in our annual International Food Fest as a few examples."
The College of Idaho has a 130-year-old legacy of excellence. The College is known for its outstanding academic programs, winning athletics tradition, and history of producing successful graduates, including seven Rhodes Scholars, three governors, and countless business leaders and innovators. Its distinctive PEAK Curriculum challenges students to attain competency in the four knowledge peaks of humanities, natural sciences, social sciences, and a professional field—empowering them to earn a major and three minors in four years. The College's close-knit, residential campus is located in Caldwell, where its proximity both to Boise and to the world-class outdoor activities of southwest Idaho's mountains and rivers offers unique opportunities for learning beyond the classroom. For more information, visit www.collegeofidaho.edu.