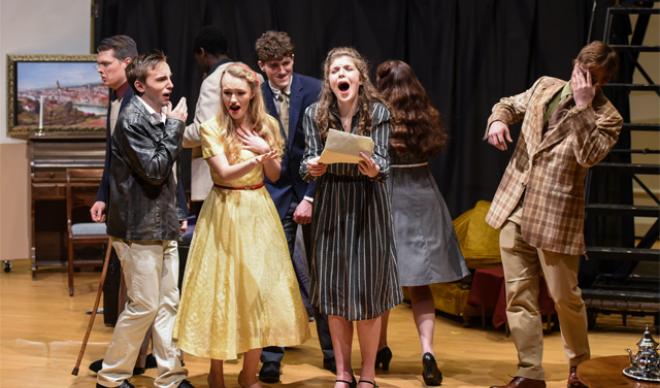 The College of Idaho's annual opera is coming to the Langroise Center for Performing & Fine Arts from February 5 to 8, giving the community an opportunity to experience an art form that originated in Italy more than 400 years ago.
"Gianni Schicchi" is a short, one-act opera directed by Annie Powell of the College's music department. There are about 20 students involved in the performance, including Peyton Fleming, who plays the lead role of Gianni. The opera tells the story of Gianni, who is recruited to help a family re-write the will of its departed patriarch, who left his entire fortune to a monastery.
"It's a story being told through music," said Powell, a member of the College's music faculty. "This particular opera is a little bit more accessible to the public because it has a really fun story line. There are a lot of fun moments."
Powell says the opera's spoken dialogue is in English but all of the songs will be performed in Italian with translations available for the audience. The students involved in the production are not all music majors but most are involved in the music department.
"It is a marriage of a lot of art forms put into one and they seem to enjoy being challenged with something different," Powell said of the performers.
Others within the College's fine arts community are contributing to the performance as well. Travis Horton serves as the production's accompanist, Mike Hartwell helped construct the set, and Deborah Hartwell helped with costumes and makeup. The show lasts approximately 50 minutes.
Show time in the recital hall each night is 7:30. Tickets are $12 per adult, $10 for seniors, and $6 for children under the age of 12. Faculty, staff, and students of the College can attend any of the shows for free.
The College of Idaho has a 129-year-old legacy of excellence. The College is known for its outstanding academic programs, winning athletics tradition and history of producing successful graduates, including seven Rhodes Scholars, three governors, and countless business leaders and innovators. Its distinctive PEAK Curriculum challenges students to attain competency in the four knowledge peaks of humanities, natural sciences, social sciences and a professional field—empowering them to earn a major and three minors in four years. The College's close-knit, residential campus is located in Caldwell, where its proximity both to Boise and to the world-class outdoor activities of southwest Idaho's mountains and rivers offers unique opportunities for learning beyond the classroom.  For more information, visit www.collegeofidaho.edu.