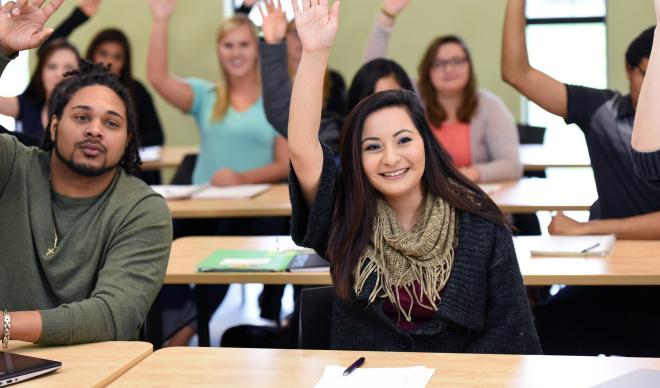 While almost every student attending The College of Idaho receives some form of financial aid, incoming students applying for the 2018-2019 school year will be able to apply for one of the most prestigious and valuable scholarships available in the state of Idaho: the full-tuition Heritage Scholarship.
Designed for highly qualified students with exemplary academic records and a demonstrated preparedness for the academic rigor and community-driven atmosphere of the C of I, the Heritage Scholarship will be awarded to as many as five students in each incoming class, providing full-tuition for the duration of the student's time at the College.
Students receiving the Heritage Scholarship will also receive the full benefits of the College's existing Gipson Fellows Program, which provides strong academic students with guided opportunities for leadership development, academic growth and professional preparation, helping them become intellectual and cultural leaders both on and off the C of I campus. The combined program and scholarship will now be called the Gipson Honors Program.
"The recipients will be the best of the best," C of I President Bob Hoover said. "The successful candidate should possess a high grade point average in a very rigorous curriculum, exceptional writing skills, very strong test scores, and a history of engagement in high school activities."
In addition to full-tuition support, Heritage Scholars will also receive guaranteed "venture award" funding in the form of a $3,500 one-time award granted during their sophomore, junior or senior years to fund an academic enhancing experience, including study abroad opportunities, research work, internships and other creative or research projects.
While enrolled as a Heritage Scholar, awardees will also be enrolled in the Gipson Fellowship program. Named for former College of Idaho professor and author, Lawrence Henry Gipson, students within the program work with advisors within their chosen academic interest to build a portfolio of strong academic work to include with applications for graduate and professional schools, as well as international and honors fellowships in their fields.
"Chosen for this program because of their demonstrated potential to be academic and community leaders, Gipson Fellows arrive at The College of Idaho eager to be pushed academically and eager to give to our community," C of I English and environmental studies professor Dr. Rochelle Johnson said about the program.
For full application requirements and additional details about the program, visit www.collegeofidaho.edu/admission-aid/financial-aid/types/scholarships/institutional/gipson-heritage. Students should apply for admission to The College of Idaho prior to Jan. 15 to be in consideration to be chosen to apply for the Heritage Scholarship.
The College of Idaho has a 125-year-old legacy of excellence. The C of I is known for its outstanding academic programs, winning athletics tradition and history of producing successful graduates, including seven Rhodes Scholars, three governors, four NFL players and countless business leaders and innovators. Its distinctive PEAK Curriculum challenges students to attain competency in the four knowledge peaks of humanities, natural sciences, social sciences and a professional field—empowering them to earn a major and three minors in four years. The College's close-knit, residential campus is located in Caldwell, where its proximity both to Boise and to the world-class outdoor activities of southwest Idaho's mountains and rivers offers unique opportunities for learning beyond the classroom.  For more information, visit www.collegeofidaho.edu.