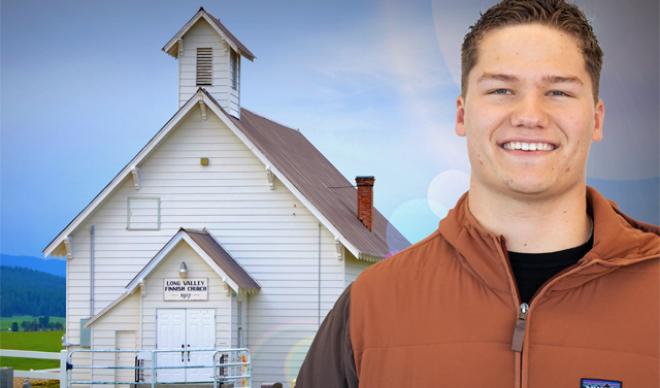 Junior Cooper Leaf, a history major at the College, is the first to admit that some history classes move a little slower than others. So when he says History 305 – Introduction to Public History, a course he took during the spring term of his sophomore year taught by Dr. Rachel Miller was, "one of my favorite classes so far," you know it was a pretty special class.
"That class really opened my eyes to history in the real world," Leaf said. "How it relates to today and how there is history still being made and being written."
As it turns out, he and his classmates are among those who are writing it. A big part of the class was a project of each student's choosing. They chose a subject to research to submit to the Intermountain Histories Project, a free mobile app and website that provide scholarly information and interpretive stories of historic sites and events around the Intermountain West region.
"The class is meant to introduce students to careers in the field, encourage them to think of history as something that we do outside the classroom, and to encourage them to think critically about the uses of history in public life," said Miller.
Leaf chose the Long Valley Finnish Church in Valley County, near the small community of Lake Fork, Idaho. It wasn't just a site he knew about, it was a site that has significance to his family. His family homesteaded a ranch in the Lake Fork area in 1902. The family still owns the ranch and it is tended by his grandparents, who live in nearby Cascade. He still spends his summers in the area, too, while serving as a wildland firefighter.
"(Dr. Miller) wanted us to pick something that meant something to us so we could really get into the project," Leaf explained. "She allowed us a lot of freedom to pick something that we felt passionate about."
Leaf has helped maintain the church himself, from mending fences to installing bricks. The church was built in 1917 as a center of worship for the large Finnish immigrant population in the area. Despite being over a century old, the church is still used for select local events. It was added to the National Registry of Historic Places in 1980.
His work was published by Intermountain Histories late last fall.
"It's the first time I've done a project in school where you can really see it pay off," Leaf said. "You can see your work out there for everybody. It was a cool moment for me."
Another cool moment was when his grandparents saw his work.
"They were excited and they're proud now that it's published," he said with a smile. "It meant a lot for them for me to dive deep into that."
The area is a big part of Leaf's past. And he says, as an aspiring teacher, he wouldn't mind making it part of other people's future.
"That's what made it special for me, being able to tie it into my family," Leaf said of the experience. "If I'm teaching Idaho history, it is definitely something I'd like to include."
The College of Idaho has a 132-year-old legacy of excellence. The College is known for its outstanding academic programs, winning athletics tradition, and history of producing successful graduates, including eight Rhodes Scholars, three governors, and countless business leaders and innovators. Its distinctive PEAK Curriculum challenges students to attain competency in the four knowledge peaks of humanities, natural sciences, social sciences, and a professional field—empowering them to earn a major and three minors in four years. The College's close-knit, residential campus is located in Caldwell, where its proximity both to Boise and to the world-class outdoor activities of southwest Idaho's mountains and rivers offers unique opportunities for learning beyond the classroom. For more information, visit www.collegeofidaho.edu.