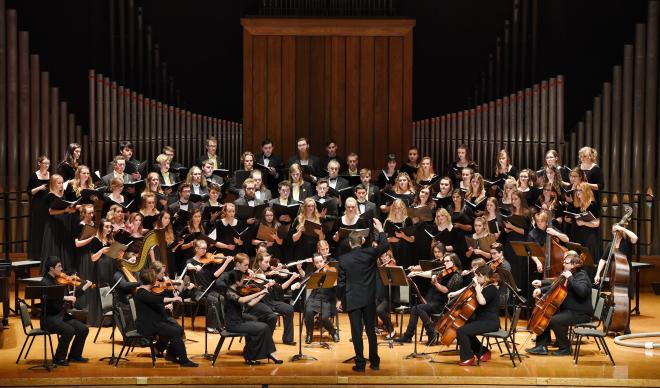 At The College of Idaho, the music halls will be decked with more than just holly as the school rings in the holiday season with four performances from music ensembles and individual students between Nov. 29 and Dec. 3.
The College's annual holiday concert, the Feast of Carols, will start at 7:30 p.m. on Wednesday, Nov. 29 in the Jewett Auditorium and will feature all of the College's vocal ensembles as well as Sinfonia. The C of I Wind Ensemble and Jazz Ensemble will perform at 7:30 p.m. on Thursday, Nov. 30 in the Langroise Recital Hall. Select piano studio students will hold their recital at 7:30 p.m. on Friday, Dec. 1 in Jewett Auditorium, while chamber music students will perform their recital at 7:30 p.m. on Sunday, Dec. 3 in the Langroise Recital Hall.
The Feast of Carols is one of the College's most popular and well attended music concerts of the year. This year's show will include performances from C of I's Chorale, Chamber Singers and Major Sixth, each directed by Dr. Brent Wells, as well as the C of I Sinfonia under the direction of Langroise Trio member Samuel Smith.
Immediately following the Feast of Carols is a special reception and refreshment session in the Langroise Foyer. Concert attendees can enjoy warm drinks as they interact with the performers and enjoy additional music performed by the C of I Vocal Jazz Ensemble under the direction of Dr. Marianne Saunders.
"Many concert goers across the Treasure Valley view the Feast of Carols as one of the events that helps kick off the holiday season," Wells said. "Every year we try to feature some well-loved carols alongside classical masterworks and holiday music from a variety of backgrounds."
The College of Idaho Wind Ensemble will team up with the College of Idaho Jazz Ensemble the next night at the Langroise Recital Hall for a dual concert performance entitled "Toward the Light." The Wind Ensemble will perform under the direction of Dr. Michael Lucas Strother, while the Jazz Ensemble will perform under the direction of Sandon Mayhew.
The music will return to the Jewett Auditorium stage on Friday, Dec. 1 for recitals featuring piano students, which will be followed by a return to the Langroise Recital Hall on Sunday, Dec. 3 for the Chamber Music Recital, which will feature 11 chamber music students of a variety of instruments coached by Langroise Trio member David Johnson.
All concerts are free to attend and are open to the public. For more information about The College of Idaho's music program, visit https://www.collegeofidaho.edu/academics/departments/music.
The College of Idaho has a 125-year-old legacy of excellence. The C of I is known for its outstanding academic programs, winning athletics tradition and history of producing successful graduates, including seven Rhodes Scholars, three governors, four NFL players and countless business leaders and innovators. Its distinctive PEAK Curriculum challenges students to attain competency in the four knowledge peaks of humanities, natural sciences, social sciences and a professional field—empowering them to earn a major and three minors in four years. The College's close-knit, residential campus is located in Caldwell, where its proximity both to Boise and to the world-class outdoor activities of southwest Idaho's mountains and rivers offers unique opportunities for learning beyond the classroom.  For more information, visit www.collegeofidaho.edu