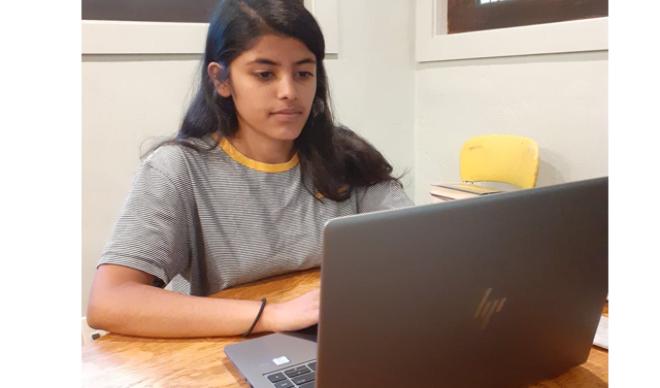 Thulasi Priya Ramesh had her summer plans set up. She was bound for California to complete a professional internship following her freshman year. Then the COVID-19 pandemic struck, which left people everywhere unsure of what would happen next.
What happened for Ramesh might seem surprising: instead of canceling the internship, the company, CBT, reworked it and encouraged the sophomore-to-be to complete the internship remotely.
Ramesh, a double major in marketing & digital media as well as international political economy, is living with a host family in Caldwell over the summer. Without ever leaving the house, she's able to get up in the morning, get ready, and fulfill her daily internship tasks.
"We're kind of working at it as we go," Ramesh laughed. "It's sort of hunkering down at the kitchen table."
She's working with CBT's marketing department until mid-August when she'll return to campus for her sophomore year. Her day-to-day duties vary; she attends several online meetings about branding and execution of strategy as well as contributes research to the department. And she says one thing that has helped her succeed in the internship was one of the biggest hurdles the College has ever faced – the closure of in-person learning on campus during the Spring semester. Working online, communicating with professors, and completing tasks remotely all prepared her for what she's doing this summer.
"All the tools to do it (the internship) were there but I don't think I would have had the confidence to do it if we hadn't transitioned online during the school year," Ramesh said. "It made me go outside of my comfort zone. It's been a challenge but it's not impossible."
CBT is a system-integrations company and Ramesh applied for the internship through connections at her boarding school, Shanti Bhavan, in her native country of India. While other opportunities existed with bigger companies, she is grateful for CBT's initiative in working toward creating a more diverse and inclusive work environment, especially during the pandemic.
"I'm very lucky to be able to have this internship where they're as invested in me succeeding as I am," she said. "It's been a really good opportunity for me."
The College of Idaho promotes and encourages students to perform internships. For some majors, it's a requirement. Internships serve as opportunities for students to learn outside the classroom and create relationships that can help them once they graduate.
CBT founder and CEO Kelly Ireland explained the reason for that investment from her company's point of view.
"I built CBT not only to help our customers, but also to create economic opportunity for our employees, and Diversity and Inclusion has been at the heart of that growth," Ireland said about Ramesh's internship. "Our values don't change because of COVID-19. We are delighted to work with industry-leading partners to create this hands-on marketing career program which we anticipate will grow to include our entire partner and customer ecosystem."
The College of Idaho has a 129-year-old legacy of excellence. The College is known for its outstanding academic programs, winning athletics tradition, and history of producing successful graduates, including seven Rhodes Scholars, three governors, and countless business leaders and innovators. Its distinctive PEAK Curriculum challenges students to attain competency in the four knowledge peaks of humanities, natural sciences, social sciences, and a professional field—empowering them to earn a major and three minors in four years. The College's close-knit, residential campus is located in Caldwell, where its proximity both to Boise and to the world-class outdoor activities of southwest Idaho's mountains and rivers offers unique opportunities for learning beyond the classroom.  For more information, visit www.collegeofidaho.edu.