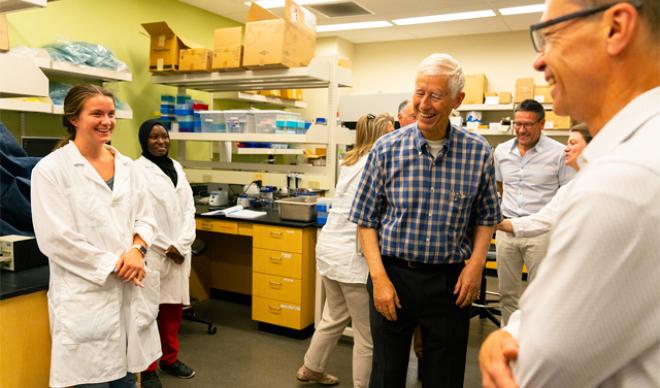 The J.R. Simplot Company Foundation today announced the funding of The College of Idaho's Collaborative Science Research Fund, an endowed fund that enables students to engage in professional research through the summer months. Throughout each summer, undergraduate students take on scientific research projects in small groups with faculty mentors. The Collaborative Science Research Fund provides critical support for these professional activities in perpetuity.
According to Provost David Douglass, "there is simply no substitute for active participation in a research team. At The College of Idaho, learning science means doing science, and once students have gained foundational skills and knowledge, we want them to experience the most compelling aspects of scientific inquiry through firsthand collaborative research in the field and the lab. This endowment from the Simplot Company Foundation will support transformative experiences of this type for generations of students."
This past summer, members of the J.R. Simplot Company leadership team toured Boone Science Hall and visited with students and faculty members who demonstrated the various research projects that were underway. 
"This program provides a fantastic opportunity for interaction with students who will be future leaders in our community, which is really important," said Garrett Lofto, President and CEO of the J.R. Simplot Company. "It's energizing to come here and see the relationships that the students have with the faculty and the passion everybody has in their field of study. This can help students really see that their work can make a difference and we love to be a part of that."
The original idea of the partnership came from a conversation between Scott Simplot, Chairman of the J.R. Simplot Company, and Jim Everett, Co-President of The College of Idaho. Simplot recalled his time working at a ranch, cutting hay during the summer months between semesters of his college years, and how beneficial it would have been to spend that time conducting professional research.
"When (Jim Everett) came and said 'look, I've got this idea to continuously make it possible for students to spend their summers doing research,' it clicked with me." Simplot said. "It would have been a far better application of my time if I'd been able to do something in those three months that would have built some experience, so when school started the next fall, I could build on what I would've learned over the summer."
Thanks to the generosity of the J.R. Simplot Company Foundation, many more College of Idaho students will have such an opportunity during the summer months. Douglass noted that without such support, most students would seek summer jobs to earn money to help pay for the costs of their education. "The extraordinary generosity of the Simplot Foundation means that students will be able to continue their education year around," Douglass said. "The fact that this gift takes the form of an endowment means that it will support generations of students through the end of this century and beyond."
The College of Idaho has a long history with the J.R. Simplot Company, its namesake, and the Simplot family. J.R. Simplot was a long-time trustee and benefactor to the College, and there are multiple buildings on campus named in Simplot's honor.
"As an employee who has been with the company for over 30 years, it's just great to see that type of longevity," Lofto said. "This is a very important place that Mr. Simplot loved. This endowment enables the Simplot Company Foundation to remain an active and avid part of this college community and continue our long-time commitment of investing in the future."
Here is a link to a video of the J.R. Simplot Company Foundation team visiting The College of Idaho: https://youtu.be/V8RcOss06zQ
The College of Idaho has a 131-year-old legacy of excellence. The College is known for its outstanding academic programs, winning athletics tradition, and history of producing successful graduates, including seven Rhodes Scholars, three governors, and countless business leaders and innovators. Its distinctive PEAK Curriculum challenges students to attain competency in the four knowledge peaks of humanities, natural sciences, social sciences, and a professional field—empowering them to earn a major and three minors in four years. The College's close-knit, residential campus is located in Caldwell, where its proximity both to Boise and to the world-class outdoor activities of southwest Idaho's mountains and rivers offers unique opportunities for learning beyond the classroom. For more information, visit www.collegeofidaho.edu. 
About Simplot
The J.R. Simplot Company is a family-owned, privately held global food and agriculture company headquartered in Boise, Idaho. Its integrated portfolio includes food processing and food brands, phosphate mining, fertilizer manufacturing, farming, ranching and cattle production, and other enterprises related to agriculture. Simplot has major operations in the U.S., Canada, Mexico, Argentina, Australia, and China, with products and services available to customers worldwide. For more information, visit www.simplot.com.