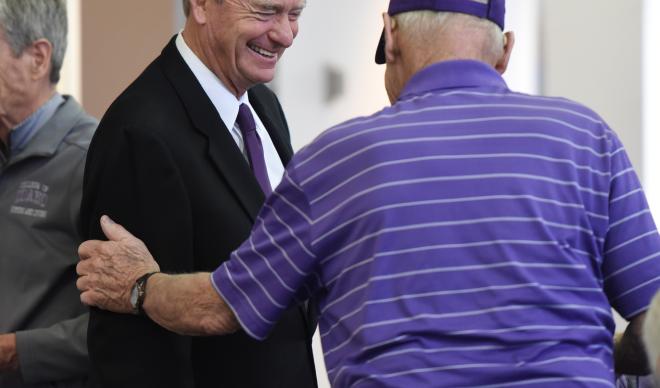 When current Idaho lieutenant governor and 2018 gubernatorial candidate Brad Little visited The College of Idaho on Nov. 21 as part of a "Meet the Candidates" event organized by the College's Republican Club, the first story he shared upon coming to the stage was of his own college experience. Although Little has served in state-elected office since 2001, he admitted he had only taken one course in political science during his time as an agri-business student at the University of Idaho.
"It was an interesting class on local and state government," Little said. "I took it with (future Idaho Governor) Dirk Kempthorne. It's great to be back on a college campus again."
Little, who is one of several Republican candidates running for governor next year, was invited by the C of I's Republican Club to speak on campus as part of a series of candidate visits the club intends to organize throughout the school year leading up to 2018's midterm elections. Junior history major and Republican Club President Lauren Smyser said the forums are intended to generate discussion among C of I students and give them the opportunity to personally learn more about their local and state candidates.
"We want to emphasize inclusion for everyone, no matter what party they belong to," Smyser said. "Having the candidates on a campus of our size where students like us can have an open dialogue with them and ask important questions in a close-knit setting is amazing for us."
Tuesday afternoon's crowd included several C of I students, as well as members of the Caldwell community who were interested in hearing Little speak. Little answered each question about his policy plans with the same lens he said he would use for all his decisions if he were elected: what is best for future generations of Idahoans.
"From what I've seen in my view of the Governor's Office, the governor has to make anywhere from 5-20 decisions every day," Little said. "So I ask myself, what one thing do I want to make every one of those decisions through? For me, it's how we can make these decisions so our kids and our grandkids have the best possible chance to be successful in Idaho."
Education was one of the key factors Little spoke about during his visit. When asked by a student about encouraging more conservative political views on college campuses, Little responded by saying it was through education that students could consider alternate viewpoints. He emphasized the importance of a broad education, and encouraged the students to think about their futures as they explore new ideas.
"If you have a broad education, there's nothing wrong with not knowing what you're going to do within your first or your second year," Little said. "It's about being challenged and thinking about what comes after you're done. Having that baseline education and knowledge will help in developing your view of the world."
Little said he has sought insight into the education policies of governors from each side of the political aisle, coming to the conclusion that education policy should be seen as a long-term investment, not something that needs to be changed for change's sake.
"The last thing educators want is to be jerked back and forth with the flavor of the month," Little said. "What Idaho is doing with dual credits, STEM education and customized lesson plans has had incredible value for our state. We need to keep graying the lines between career technical education and what is already working in K-12 education. There is a way to get those skills to kids where the fast learner isn't bored and the slower ones get help where they need it most."
Little said he has had disagreements with current Gov. Butch Otter on select issues since his appointment to lieutenant governor in 2009. Although he said he and Otter would have "significant style differences" if Little is elected as successor, Little said one thing that would not change during his term would be the common bond he and Otter have regarding strong conservative leadership policies.
"The leaders of Idaho who have come before us have made the right investments so that today, we have incredible opportunity moving forward," Little said. "Now is the time to maximize these opportunities for our future."
Smyser said the club will organize more candidate visits during the College's 2018 spring semester, including a forum for candidates of the Idaho First Congressional District.
The College of Idaho has a 125-year-old legacy of excellence. The C of I is known for its outstanding academic programs, winning athletics tradition and history of producing successful graduates, including seven Rhodes Scholars, three governors, four NFL players and countless business leaders and innovators. Its distinctive PEAK Curriculum challenges students to attain competency in the four knowledge peaks of humanities, natural sciences, social sciences and a professional field—empowering them to earn a major and three minors in four years. The College's close-knit, residential campus is located in Caldwell, where its proximity both to Boise and to the world-class outdoor activities of southwest Idaho's mountains and rivers offers unique opportunities for learning beyond the classroom.  For more information, visit www.collegeofidaho.edu