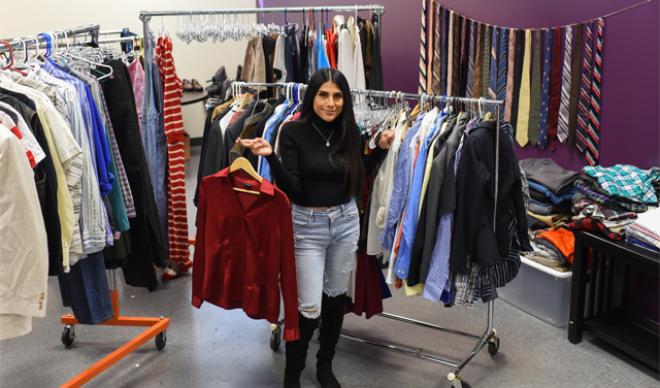 Junior Estefany Macias Lopez is a doer. She likes being involved and participating. She's working with the Chic Boutique club on campus in the hope of spending much of her spring inside the McCain Student Center.
"I'm already a regular in McCain. I'm there all the time," she said with a laugh. "I really wanted to do something. I love helping the community and I love doing things like this."
She's referring to Chic Boutique expanding into more formal and professional attire. The club already gathers and distributes casual clothes to students on campus for free, but now the two are collaborating to provide something that meshes well with the College's goal of blurring the lines between college and career by allowing students to "check out" proper attire for job or internship interviews.
"Everybody does an internship or has an interview or has some kind of important event to attend at some point," the political economy major said. "It's not just one group or another."
Senior Jad Jabareen, the president of Chic Boutique, agrees. When he arrived as a freshman, the club didn't exist yet and he didn't own formal attire of his own until his junior year.
"Being able to borrow a suit would really help someone," said Jabareen, a business administration major. "I think this program has a lot of potential to positively influence a lot of students on campus."
So the two are working together to provide this service to students free of charge. Students will be asked to fill out a form when checking out the clothes so the club can keep track of the garments. Macias Lopez says certain items will likely just be given to students to keep, but higher-priced items, like suits, will just be loaned. There is no cost to the students. The club has already secured some donations with the goal of having the professional-attire area fully functional by January.
Vice President of High Impact Practices Latonia Haney Keith sees what the club is doing – both in general and with the new, professional-attire venture – as prime indicators of what the College is all about.
"Chic Boutique embodies our One College of Idaho values – students helping fellow students on their journey of exploration from college to career," Haney Keith said. "It is also a perfect example of how students put The College of Idaho's robust liberal arts education to work by tackling and solving an issue and leading change on and off-campus."
Students are encouraged to come by Chic Boutique's area on the second floor in McCain, near the ASCI student government chambers. While the Boutique does not have daily hours of operation, it will start hosting regular openings again for students soon. The openings will be announced through email and on the club's Instagram page (@chicboutique.cofi). Macias Lopez plans to be active via social media as well, starting a separate Instagram account for the professional attire. She wants to involve alumni by inviting them to talk to students via Instagram about preparing for the future. The new section of the Boutique has already secured one corporate grant and donation from Idaho Central Credit Union to help students get dressed for success.
"I believe that this is the place that gives the possibility for some of the students in need of clothes like that, formal clothes, they can get access to those clothes easily for free," Jabareen said.
Macias Lopez is appreciative of the help she has received from Jabareen and Chic Boutique as the two share the same goal.
"I really hope it helps students," she said.
For more information about Chic Boutique or the new professional-attire initiative, contact Jad Jabareen or Estefany Macias Lopez.
The College of Idaho has a 129-year-old legacy of excellence. The College is known for its outstanding academic programs, winning athletics tradition and history of producing successful graduates, including seven Rhodes Scholars, three governors, and countless business leaders and innovators. Its distinctive PEAK Curriculum challenges students to attain competency in the four knowledge peaks of humanities, natural sciences, social sciences and a professional field—empowering them to earn a major and three minors in four years. The College's close-knit, residential campus is located in Caldwell, where its proximity both to Boise and to the world-class outdoor activities of southwest Idaho's mountains and rivers offers unique opportunities for learning beyond the classroom. For more information, visit www.collegeofidaho.edu.