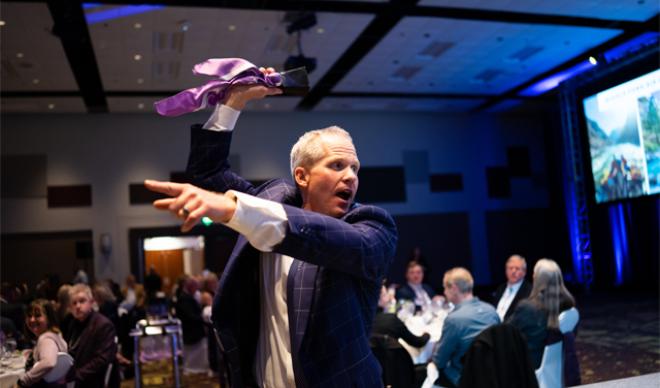 On the night of the annual Scholarship Gala, Jack Cafferty '97 has an important job during the live auction. His job is to run from bidder to bidder, shouting and ringing a cowbell, to draw attention to the bidders for the Gala's auctioneer.
"I was exhausted," admitted the College's Vice President of College Relations. "I had no voice on Saturday."
What he did have were tired legs from running across the ballroom at the Boise Centre on Friday night and multiple cuts and scrapes on his fingers from ringing the bell as the annual event raised a total of $811,000 for student scholarships – besting the event's previous all-time record by nearly a quarter of a million dollars.
"People were so grateful to have the opportunity to get together and to be out, in-person, and you could just see the excitement and enthusiasm all night," Cafferty said after the 2021 Gala was an online-only event due to COVID-19 concerns. "There was something magical, something special happening in the room Friday night."
There was still an online component to the Gala. Cafferty said one of the online items was purchased by a supporter in Anchorage, Alaska. But the energy in the room carried the night.
"We do a seating chart, we know where people are. We have an idea of where bids will probably come from," Cafferty said. "Friday night, it was all across the room. It wasn't just a few people, it was coming from everywhere."
On top of the dollar amount, this year's Gala set a record for attendance with over 590 people in the room. It was Cafferty's tenth Gala since returning to the College in 2013. His first Gala generated $163,000 – meaning this year's total represented an increase of nearly 400 percent over his first Gala a decade ago.
Sharon Hubler '72 attended the Gala for the first time and had such a wonderful evening that she sent a message to thank Cafferty and the development team for all of their efforts. A Golden Retriever puppy generated $40,000 in bids, with multiple people gifting the puppy back to the College after winning the auction, allowing it to be re-auctioned to generate more money. Ultimately, the final bid belonged to alums Scott '87 and Diana '87 Hurter. The entire audience listened to the amazing story of senior Cristina Hernandez, joined at the event by her mother, as the pair have navigated life's obstacles together and soon will both be college graduates. Scholarships, which were key in Hernandez's ability to attend the College, are what the Gala's funds go toward.
As part of the Gala, a $5,000 scholarship was raffled off. In a moment that almost couldn't be scripted, the winner of that raffle, Stefanie Keen, was at the Gala with her daughter, Madalyn, who is a senior in high school and will be attending the College in the fall.
"You need to see it," Cafferty said for people who haven't attended. "It's powerful. It's a wild ride."
Click here to see a large gallery of photos from the Scholarship Gala.
The College of Idaho has a 131-year-old legacy of excellence. The College is known for its outstanding academic programs, winning athletics tradition, and history of producing successful graduates, including seven Rhodes Scholars, three governors, and countless business leaders and innovators. Its distinctive PEAK Curriculum challenges students to attain competency in the four knowledge peaks of humanities, natural sciences, social sciences, and a professional field—empowering them to earn a major and three minors in four years. The College's close-knit, residential campus is located in Caldwell, where its proximity both to Boise and to the world-class outdoor activities of southwest Idaho's mountains and rivers offers unique opportunities for learning beyond the classroom. For more information, visit www.collegeofidaho.edu.