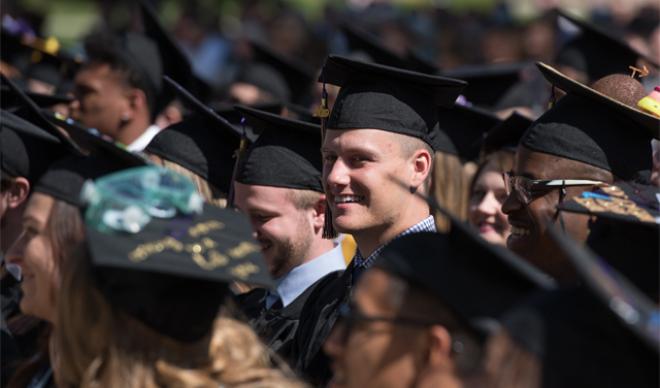 After two rainy days, the clouds broke on Saturday, providing ample sunshine for the 2019 Commencement ceremony at The College of Idaho.
Degrees were conferred onto 175 graduates in front of Boone Hall on the Morrison Quadrangle in front of over 1,500 friends and family.
"This one (graduation), you feel like you earned it at the end of it," Tyler Truksa, who double-majored in Mathematics – Physics and Political Economy, said after the ceremony. "It was a really difficult experience, but a really rewarding one."
Click here to see a gallery of photos from Commencement.
The day marked a culmination of years of hard work and dedication as the newest members of the College's alumni family prepare to make the next step.
"I think of how fortunate I am to have received this education," History major Lauren Smyser said. "We're in a pretty incredible place, or 'great' as (Senior Speaker) Kaitlyn (Heller) would say. I just feel so fortunate to have attended and to have Mee-Ae Kim as my biggest mentor and to have her support and the people I encountered here because I made this decision."
Heller's Senior Speech revolved around the word "great" and how its many synonyms all relate back to her experience at The College of Idaho.
"It hasn't really set in yet," said Heller, who received her degree in Literature in English, of wrapping up her time at The College of Idaho. "I think it's because I still have to pack my dorm and everything, but I am so glad I got my degree and I'm ready to go out into the world."
Everyone in attendance heard an inspiring Commencement Address from Matt Ramsey '95, who went from being dared to audition for a theatre performance at the College to a long-tenured member of the popular Blue Man Group, touring the world and performing for (and with) some of the biggest stars in the world.
"While we all may have a different answer to the question, 'who am I,' there is something that is inherently true about all of us, something fundamental about our identity," Ramsay told the audience. "Of all the things that will tempt you to follow, please choose something that reveals what has always been, and what will always be true, about you. And that truth is this – you are loved."
Ramsey was one of two people presented with honorary degrees from The College of Idaho on Saturday. Ramsey was awarded an honorary doctorate of fine arts. Also recognized was popular philanthropist, mentor and friend of many on campus, Winston Moore, who received an honorary doctorate of humane letters from the College.
Two students were recognized for outstanding achievement during their time as undergraduates – Truksa was presented with the Dean's Award by Dean of Students Paul Bennion and Dean of Faculty David Douglass. Then, Sarah Schoultz was awarded the Alumni Distinguished Senior Award by Jordan Komoto '05 of the College's National Alumni Board.
The fond memories and happy times flowed freely. From all the things people love about the College to what they'll miss as the Class of 2019 begins to head its separate ways.
"I am going to miss most sitting in the cafeteria and eating every day," said Thomas Price, who received his degree in Chemistry. "I know that it's one of those things you don't really think about but, after this, it's so hard to sit down with all of your close friends that you made going here for four years."
Like Price, it's the little things that Heller is going to miss about being on campus as well.
"I'm going to miss seeing everyone on campus every day," she said. "I can come back and walk through school grounds, but there's nothing that compares to walking across campus and saying hi to five people as you walk through the Quad."
The College of Idaho has a 128-year-old legacy of excellence. The College is known for its outstanding academic programs, winning athletics tradition and history of producing successful graduates, including seven Rhodes Scholars, three governors, and countless business leaders and innovators. Its distinctive PEAK Curriculum challenges students to attain competency in the four knowledge peaks of humanities, natural sciences, social sciences and a professional field—empowering them to earn a major and three minors in four years. The College's close-knit, residential campus is located in Caldwell, where its proximity both to Boise and to the world-class outdoor activities of southwest Idaho's mountains and rivers offers unique opportunities for learning beyond the classroom.  For more information, visit www.collegeofidaho.edu.