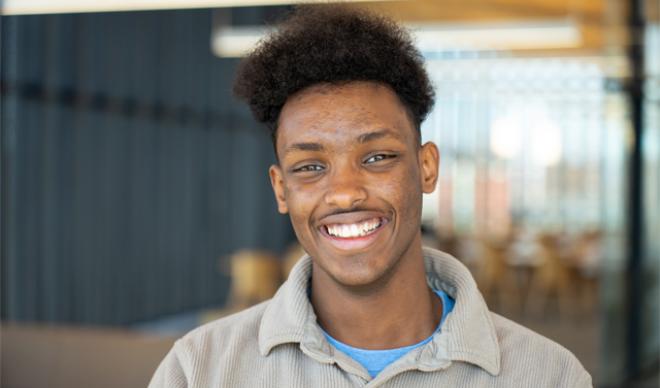 Coming up in March, Idaho Public Television will air a documentary on vaping and its effects on the lives of young people in Idaho. One of the experts interviewed for the documentary is senior Abucar Mohamed.
"This is not something I was expecting to happen," laughed Mohamed, a biomedical science major. "It was a really awesome experience."
It's not the only thing going on for Mohamed, who was selected to participate in the documentary because of research he has done on the effects of vape liquids on bone cells with Dr. Sara Heggland. The same research will take Mohamed to Nashville, Tennessee, later this week to present at the National Society of Toxicology's national conference.
"I'll get to meet a lot of people who are in the field of toxicology, which has become much more interesting to me," Mohamed said. "I'm really looking forward to the career opportunities that will be present and also presenting at a national conference for the first time."
Heggland, a long-time biology professor at the College, has been taking students to this particular conference for about two decades. This year's event is held March 19-23 and Mohamed will receive the conference's Undergraduate Research Award.
"It is really focused toward Ph.D.s, physicians that are in the realm of toxicology, the FDA, the EPA," Heggland said of the conference. "Very few undergraduates go to this conference. It's exciting to be able to take Abucar this year and have him present his work."
Heggland's lab inside Boone Hall has been a home for research on e-cigarettes for many years now. Her lab assistants generally pick up where the last one left off. The research evolves as the science evolves, and the science evolves as the industry evolves. This is Mohamed's third year working in Heggland's lab.
"It's fantastic, I wouldn't have it any other way," he explained. "Dr. Heggland has been an amazing person to work with. She has been an awesome mentor."
He described his research as, "standing on the shoulders of giants," a tip of the cap to previous students at the College who laid the foundation for his research.
"One hundred percent of my work is drawn from previous students. We've built on top of each other," Mohamed said. "None of the work I've done, I can't say it's all me. It's been other students who have put in all their hard work that helped me find the results that I'm finding."
And it is that work and those results that led the IPTV documentary filmmakers to Heggland. The film explores vaping among young people in Idaho – people in Mohamed's age range – and how it has affected their lives. The filmmakers learned of Heggland's research and asked her to be involved in the show to offer scientific analysis. Heggland, in turn, brought Mohamed into the conversation.
"It's been really rewarding and exciting to take what we do in the laboratory, the 'bench science,' and be able to communicate that to the public and have that voice," Heggland said. "I think, for Abucar, that was a part of being in the lab that was unanticipated. He had no idea that he was going to be in a vaping documentary his senior year."
Mohamed echoed the feeling of the unexpected, admitting he's nervous to see the final cut of the documentary when it airs on Idaho Public Television on March 21 at 7 p.m.
"No way, I would have never expected that I'd be working with e-cigarettes. I never would have expected that I'd be this interested in research," Mohamed said, expanding on his unexpected path. "When I came to The College of Idaho, I saw research as a stepping stone to medical school, not something that could change people's lives. This has changed a lot of my perceptions."
Mohamed will graduate from the College this spring. He's hoping to spend the next two years doing post-baccalaureate research for the National Institute of Health (N.I.H.) before enrolling in medical school.
Idaho INBRE is funded by an Institutional Development Award (IDeA) from the National Institute of General Medical Sciences of the National Institutes of Health under Grant #P20GM103408.
The College of Idaho has a 132-year-old legacy of excellence. The College is known for its outstanding academic programs, winning athletics tradition, and history of producing successful graduates, including eight Rhodes Scholars, three governors, and countless business leaders and innovators. Its distinctive PEAK Curriculum challenges students to attain competency in the four knowledge peaks of humanities, natural sciences, social sciences, and a professional field—empowering them to earn a major and three minors in four years. The College's close-knit, residential campus is located in Caldwell, where its proximity both to Boise and to the world-class outdoor activities of southwest Idaho's mountains and rivers offers unique opportunities for learning beyond the classroom. For more information, visit www.collegeofidaho.edu.