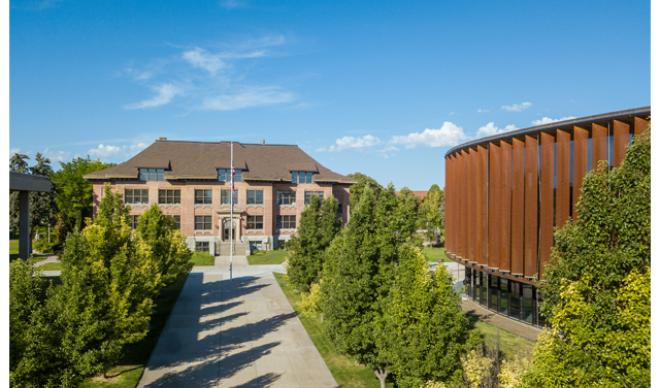 Add Princeton Review, Washington Monthly, College Raptor, and Niche to the list of publications for college-bound students and families to give The College of Idaho glowing grades.
"It's always wonderful for the College to receive recognition for the excellent education provided to its students. We believe the experience our students are having at The College of Idaho is competitive with any other program in the country, and these rankings reinforce that belief," said Brian Bava, Vice President of Enrollment Management at the College. "We hope that our high placement helps bring even greater awareness of the College to students who we know would benefit from the great opportunities we provide. We look forward to continuing to serve the students of Idaho and the surrounding states in the years to come."
All four have included the College in their rankings for years, so the latest numbers are a recognition of continued excellence.
Washington Monthly
The College is ranked no. 7 in the northwest and no. 172 nationally among liberal arts institutions in Washington Monthly's 2021 College Rankings. Washington Monthly ranks institutions based on recruiting and graduating students of modest means, produce the scholarship and scholars that drive economic growth and human flourishing, and encourage students to be active citizens. Harvey Mudd College (California) and Wesleyan College (Connecticut) hold down the top two overall spots on Washington Monthly's list.
Princeton Review
The Princeton Review breaks down its analysis into five regions: Northeast, Southeast, Midwest, West, and International. The College is one of 126 schools recognized in the West, a region that includes both California and Texas. Schools are considered largely based on academics along with student experiences. Schools range in size from major public institutions like Arizona State University with a full-time enrollment of over 63,000 students to small, liberal arts institutions like The College of Idaho, whose enrollment is around 1,000 full-time students.
College Raptor
When College Raptor announced its 2022 "Best Colleges" rankings, the College earned two distinctions: No. 1 College in Idaho and Top 25 Best Rocky Mountain Colleges. The College checks in at No. 14 on the list of best colleges in the region while topping the list of Idaho schools. The publication considered a wide array of factors in its rankings, from graduation rates and retention to student diversity and endowment per student. College Raptor is a planning platform that helps families find possible colleges.
Niche
Niche.com is a prominent site for students looking to learn more about colleges and universities. The College of Idaho moved up one spot to No. 2 among all Idaho schools, trailing only the University of Idaho in the rankings that include data analysis and also feedback and reviews from other families and students.
Previously-released accolades for the College include:
Top College in Idaho for Getting a Job (Zippia)

Inclusion in the Fiske Guide to College for the 11th consecutive year
The College of Idaho has a 130-year-old legacy of excellence. The College is known for its outstanding academic programs, winning athletics tradition, and history of producing successful graduates, including seven Rhodes Scholars, three governors, and countless business leaders and innovators. Its distinctive PEAK Curriculum challenges students to attain competency in the four knowledge peaks of humanities, natural sciences, social sciences, and a professional field—empowering them to earn a major and three minors in four years. The College's close-knit, residential campus is located in Caldwell, where its proximity both to Boise and to the world-class outdoor activities of southwest Idaho's mountains and rivers offers unique opportunities for learning beyond the classroom. For more information, visit www.collegeofidaho.edu.