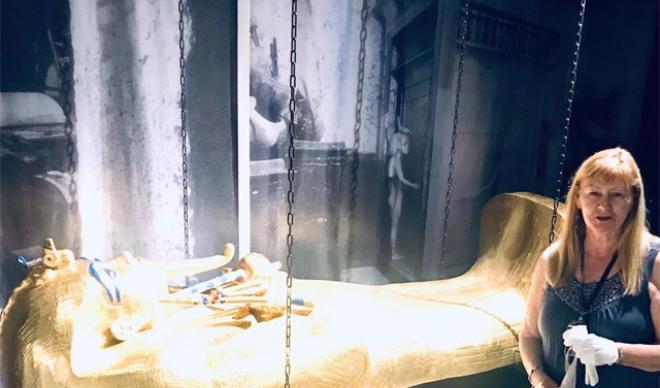 You've heard of King Tut, the ancient Egyptian ruler whose tomb was discovered in 1922.
Through the work of one of the curators at the Orma J. Smith Museum of Natural History, Tut's story is being told in Boise at the Discovery Center of Idaho.
Jan Summers-Duffy, the Museum's Curator of Archaeology & Egyptology, is a consultant for the traveling exhibit titled "Treasures of the Tomb," which opened in July and will be on display in Boise for the next 6-to-12 months. It's a good opportunity for people in Idaho to get a close look at one of the most renowned archaeological stories of the past century.
"It's amazing and rewarding for me to see families looking at an object and reading about it," Summers-Duffy said. "I've seen people looking at the life-size guardian statues, amazed, because they (the statues) stood at the entrance to the burial chamber of King Tut untouched for 3,300 years. It's an amazing experience."
She says the exhibit is laid out specifically to reflect the history of Egypt's 18th Dynasty, of which Tutankhamun was the last pharaoh. Tours are available six days per week (Tuesday through Sunday) with appropriate physical distancing precautions due to the COVID-19 pandemic. But that hasn't dampened enthusiasm about the display; an estimated 500 people came on the exhibit's opening day to see history up close and personal.
Most of the artifacts, such as the sarcophagus and mummy itself, are replicas. Egypt won't allow the originals leave the country. However, Summers-Duffy says some of the artifacts are authentic. To avoid tempting anyone, the exhibit doesn't indicate exactly which ones are authentic and which ones are replicas.
Summers-Duffy and her intern, College of Idaho sophomore Regan Moore, work regularly at the Center in Boise to make sure the exhibit is in proper order. One area in particular that she mentioned was the Canopic Shrine. In ancient Egyptian belief, a person's organs had to be taken out of the body and preserved so that the person could reclaim them once he or she had been "resurrected" in the afterlife. The Canopic Shrine is a gold and wooden container that held King Tut's organs. The Shrine is one of the artifacts that Summers-Duffy showcases on her YouTube channel.
"This latest opportunity to work with Jan and the Discovery Center on the King Tut exhibit is truly a once-in-a-lifetime opportunity," said Moore, a sophomore majoring in anthropology. "I am excited to continue to work with Jan to build my Egyptology and archaeology knowledge base and to see first-hand what really goes into museum curation and artifact preservation."
Summers-Duffy has worked at the Museum on the Caldwell campus since 2006 and still travels regularly to Egypt with teams of archaeologists and researchers to study various historic locations around the region, mostly in Luxor, about 400 miles south of Cairo. She hopes to return to the region again in 2022 once the COVID-19 pandemic subsides. There's more to learn, she says, about several historical figures, including King Tut himself.
"The recent theory of hidden rooms in the tomb is realistic," she said, noting that some believe the tomb itself contains more historical treasures. "Many believe that Nefertiti is Tutankhamun's stepmother and may have acted as co-regent to Akhenaten, his father."
The College of Idaho has a 129-year-old legacy of excellence. The C of I is known for its outstanding academic programs, winning athletics tradition and history of producing successful graduates, including seven Rhodes Scholars, three governors, and countless business leaders and innovators. Its distinctive PEAK Curriculum challenges students to attain competency in the four knowledge peaks of humanities, natural sciences, social sciences and a professional field—empowering them to earn a major and three minors in four years. The College's close-knit, residential campus is located in Caldwell, where its proximity both to Boise and to the world-class outdoor activities of southwest Idaho's mountains and rivers offers unique opportunities for learning beyond the classroom.  For more information, visit www.collegeofidaho.edu.