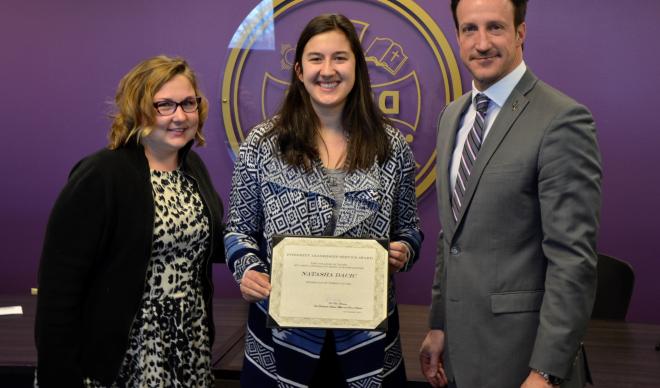 College of Idaho senior mathematics-physics and environmental studies double major Natasha Dacic has already earned a great number of accolades during her time as a Yote — and now she has a new award to add to her list of accomplishments.
Dacic is the latest recipient of the College's Integrity, Leadership & Service Award, an award from the Student Affairs Division that is given to students nominated by staff and faculty as someone who best embodies the values of the C of I community. Dacic was nominated for the award by Residence Life Area Coordinator Michelle Cain, who has worked closely with Dacic through Dacic's duties as a Student Hall Director.
"(Natasha) consistently shows dedication and determination on a level that is difficult to find," Cain said. "Her maturity is remarkable, and she expertly handles any situation thrown her way with compassion and thoughtfulness."
Dacic is an accomplished researcher and scholar in multiple fields of science. Praised by Cain as "a true leader for women in STEM," Dacic has presented her student research projects at several conferences, including the Murdock College Science Research Conference, where she is a back-to-back winner of the Murdock Poster Prize in Environmental Science/Geology over the last two years. She spent the summer of 2016 researching with C of I geoscience professor Jaime Goode, the winter of 2017 studying the night sky in New Mexico, and the summer of 2017 as an intern for the NASA Student Airborne Research Program in California.
On top of her academic achievements, Dacic is also a deeply involved member of several clubs and organizations at the C of I. Along with her duties in ResLife as a Student Hall Director, Dacic is also president of the Math Club, a member of the Physics Club and TERRA (The Environmental Resource and Recreation Association), and a student senator for the Associated Students of the College of Idaho, where she has helped lead the way for improved recycling services and water conservation on campus. 
"Natasha truly encompasses a life of integrity, leadership, and service, and is a shining example to all of her community, with the passion to utilize her skills and knowledge to better the world around her," Cain said.
After receiving the award, Dacic expressed her gratitude for the recognition from the campus, calling it a "very special honor."
"What makes the award so meaningful is that it comes directly from the community that I serve," Dacic said. "My personal job as a student is to make the world a better place, and so I will continue doing what I love. I am thankful for the resources and support that the College has given me over the last four years."
The College of Idaho has a 125-year-old legacy of excellence. The C of I is known for its outstanding academic programs, winning athletics tradition and history of producing successful graduates, including seven Rhodes Scholars, three governors, four NFL players and countless business leaders and innovators. Its distinctive PEAK Curriculum challenges students to attain competency in the four knowledge peaks of humanities, natural sciences, social sciences and a professional field—empowering them to earn a major and three minors in four years. The College's close-knit, residential campus is located in Caldwell, where its proximity both to Boise and to the world-class outdoor activities of southwest Idaho's mountains and rivers offers unique opportunities for learning beyond the classroom.  For more information, visit www.collegeofidaho.edu