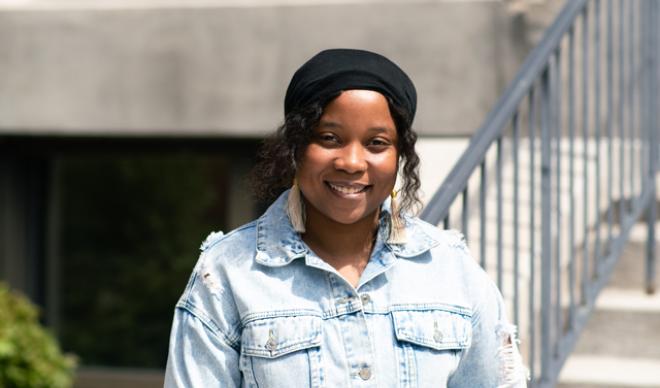 Chelsia Neto didn't win the annual Idaho Entrepreneur Challenge. She was one of 24 finalists, the only student from The College of Idaho, and also the only international student among the finalists, but she missed out on the cash prizes.
But she says that's okay. She won in other, more important ways.
"The whole competition was not even about winning, it was more about networking," said Neto, a junior who is majoring in business administration. "You really get a chance to connect with people and improve your network with a lot of people who are doing great in business."
In the Idaho Entrepreneur Challenge, each of the finalists gets four minutes to present their business concepts to panels of judges. Neto presented an existing business, C.D. Master Center, a tutoring and mentorship center in her home country of Angola. It's a business that she started ("C.D." are her initials, Chelsia Denise Neto) in 2019 at the age of 19 after attending United World College, a preparatory school with several campuses across the globe, before she enrolled at the College.
"I left home when I was 16 years old. Going there (to United World College), I didn't know English at all, so I had to learn English by myself in three months," explained Neto, who attended Waterford Kamhlaba United World College of Southern Africa before enrolling at The College of Idaho. "I was a very good student when I was at home but, when I went to UWC, not knowing English, it drastically affected my grades, so I was not performing the way I was used to. I lost my self-esteem. I wasn't believing in myself anymore."
So, at 19, before she left Angola for college in the United States, C.D. Master Center was founded. The center helps people as young as six and as old as 50 get the help they need to aim high. She has hired people to manage the center while she's in school, but she is still in regular contact with them, staying involved in the business from the other side of the world.
"I didn't want other students to go through what I went through. I realized nothing is impossible for us to achieve as human beings, we are able to achieve goals that we may not even imagine," Neto said. "Our goal is to help students and others academically and in professional preparation for the workforce. In Angola, there is a huge gap in educational resources, so my idea was to implement that in order to help students and adults succeed."
At first, Neto wasn't sure she was eligible to enter the competition. Once she confirmed that she was, she worked her way through step after step until, out of 300 original applicants, she was one of the 24 finalists. With the help of business instructor Allen Traylor and also other business students at the College, she modified and edited her speech and presentation multiple times, right up until the night before the competition.
"I'm very proud. Just the fact that this is a competition that people are supposed to go to in groups and I went by myself, that was the first win," she said. "The second win was being an international student and being able to present and educate people about my country, its problems and solutions I am providing, while everyone else was local."
While she was not awarded one of the cash prizes, what she earned could prove more beneficial – the feedback, the opportunity to talk to people about her business and her home, and the growth of her professional network.
"It was a good experience," Neto closed. "It wasn't a loss because a lot of the judges congratulated me and now my business name is in their heads."
The College of Idaho has a 130-year-old legacy of excellence. The College is known for its outstanding academic programs, winning athletics tradition, and history of producing successful graduates, including seven Rhodes Scholars, three governors, and countless business leaders and innovators. Its distinctive PEAK Curriculum challenges students to attain competency in the four knowledge peaks of humanities, natural sciences, social sciences, and a professional field—empowering them to earn a major and three minors in four years. The College's close-knit, residential campus is located in Caldwell, where its proximity both to Boise and to the world-class outdoor activities of southwest Idaho's mountains and rivers offers unique opportunities for learning beyond the classroom. For more information, visit www.collegeofidaho.edu.