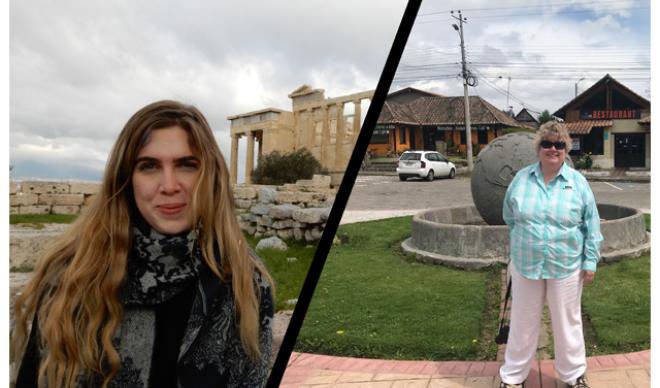 Behind nearly every endowment fund and scholarship, there is a personal story of generosity, impact and the willingness to make a difference in the lives of others. One such fund that has recently been established has a story that is still evolving, involving a College of Idaho student set to graduate in 2021 and an alumna interested in the benefit of others.
Diana Dron '75 is a successful attorney and partner at the law firm Monteleone & McCrory, LLP in California. She has also been highly active in the betterment of her alma mater for decades and was recently recognized with the Alumni Service Award. Her TED talk during the 2019 Homecoming festivities can be seen here.
While attending Homecoming festivities on campus, Dron was participating in the Presidents' Lunch and sat at a table with then-junior student Lydia Brown, a double-major in history and biology who was an invited speaker at the event. They actually met in line and ended up sitting at the same table, forming a fast friendship over lunch. During their conversation, Dron was impressed with Brown's interests and research and asked her one thing she would like to do over the next year. Brown informed her that she would love to attend the History Department's scheduled trip to Greece that was coming up in January, but she lacked the funds to travel. This struck a chord with Dron, who recalled a similar longing she had when she was a student. "I understood the disappointment she must have felt at that time because I wanted to go on the Australia biology trip in the early 70s and could not afford to make that trip," Dron remembered. "I saw a door for me to open and walk through."
Dron worked with College administrators to help Brown attend the study abroad trip to Greece, unbeknownst to Brown. When Brown received word that there were funds available from an alumnus to bridge the gap in her travel finances, she immediately knew in her mind who offered up the generous gift. "Recalling her passion for traveling, I knew exactly who had offered," Brown said. "Having never left the U.S., I felt profoundly gracious that Diana wanted to share her passion with me.
"Over the next few months, Diana offered a huge variety of traveling advice – from packing tips to personal questions for self-discovery during the trip. By early January, with the help of Diana … I was strolling along Crete's Aegean coast, stunned by the beauty of the Mediterranean. The next few weeks brought unparalleled adventure and education, such as touring the ancient Palace of Knossos, facing the challenge of communicating across language barriers, and simply witnessing life, community, and culture outside of the American context. I was mesmerized by the trip and deeply grateful for the experience as it informed my perspective as a global citizen. After the trip, I, of course, told Diana of the incredible olive oil and baklava that I had eaten, but I also talked with her about how the trip informed me of myself, and of my goals and values in life."
The funding of the trip was not just the means to an end but has become just one instance of a mentoring relationship formed between Dron and Brown. "I was able to help a student achieve a dream and I made a new friend who is 45 years younger than me," Dron said. "I also have the satisfaction of being a mentor, sounding board, and someone to ask questions and hopefully provide some perspective when Lydia wants that from me."
But the story does not end with this singular act of generosity. Dron discovered that these types of experiences are some of the most impactful in a student's time at the College. And she was not content to help just one student. "I decided that I wanted to somehow help provide this experience to other students who could not afford to do what I now understand is a 'high impact experience,'" Dron said. "A major part of my vision for my life is to give back. I wanted to do it in a way that other alumni and friends of the College, who might want to help students in this type of experience, could do so as well."
Dron has established The Dron & Brown High Impact Experience Endowment Fund. In its current form, it will provide an annual stipend/grant in perpetuity to one student each year to apply to a high impact experience. "I am hopeful that others may want to contribute to the Fund and that the endowment will eventually grow to the point that it provides two or three stipends/grants each year (or more)," Dron said. "As it is a tax-deductible contribution, I will not be the one who chooses the student who receives the funds each year after applications are made. But, I will have the satisfaction in knowing that I may have helped another student have an extraordinary experience that would not have been possible without this Fund." 
Certainly, Dron's mentorship and generosity have influenced Brown. "She continually helps me answer challenging questions that college graduates often face," Brown said of Dron. "Diana has reminded me of the power of building connections with others, and how important it is to give back to those people/places that have helped mold us into the multidimensional humans that we are. After knowing how impactful, unprecedented, and simply phenomenal my trip was with the help of Diana and witnessing firsthand how sincerely transformative High Impact Experiences can be, I invite everyone to join us in helping students access life-changing opportunities through donating to our Endowment Fund."
To contribute to the fund, please contact Vice President of College Relations Jack Cafferty of the College's Development staff, or you can make a gift online and designate the Dron & Brown High Impact Experience Endowment Fund.
The College of Idaho has a 129-year-old legacy of excellence. The C of I is known for its outstanding academic programs, winning athletics tradition and history of producing successful graduates, including seven Rhodes Scholars, three governors, and countless business leaders and innovators. Its distinctive PEAK Curriculum challenges students to attain competency in the four knowledge peaks of humanities, natural sciences, social sciences and a professional field—empowering them to earn a major and three minors in four years. The College's close-knit, residential campus is located in Caldwell, where its proximity both to Boise and to the world-class outdoor activities of southwest Idaho's mountains and rivers offers unique opportunities for learning beyond the classroom. For more information, visit www.collegeofidaho.edu.