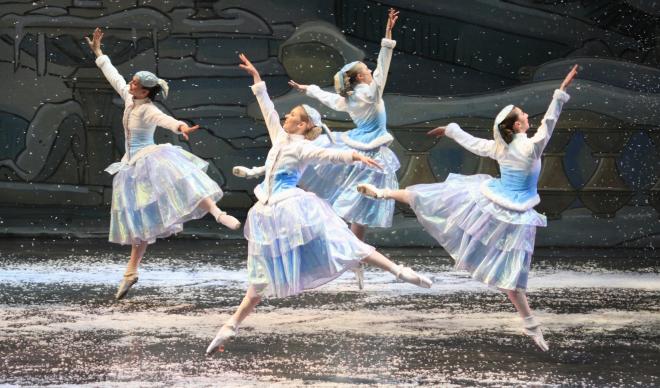 The College of Idaho and Caldwell Fine Arts present Eugene Ballet Company's The Nutcracker in Jewett Auditorium December 4-6. This year, hundreds of community members will experience the magic and wonder of the world's most beloved ballet with its timeless message of friendship and adventure. Toni Pimble's exquisite choreography and Don Carson's colorful and magical sets compliment Tchaikovsky's glorious music to create the perfect holiday tradition. Eugene Ballet Company has grown to be one of the largest touring companies in the Western United States, performing The Nutcracker over 25 times each season. 
 
The full Nutcracker Ballet is offered December 4 and 5 at 7:00 pm. Two Nutcracker Jr performances are offered on December 6 at 1:00 pm and 6:00 pm. With a running time of just under an hour, the show is the perfect length for families with young children. Nutcracker Jr. has become a hallmark for Caldwell Fine Arts and gains popularity each year, according to Executive Director, Alison Moulton. "This year, for the first time, we are selling tickets faster to our Nutcracker Jr. shows than the full-length production! I think families with young kids really want them to experience the production, but know their preschooler won't last through a full ballet." 
 
To complete the evening, Clara's Tea Party is offered before or after Nutcracker performances. A red carpet entrance, mini ballet lessons, tasty treats, crafts, and visits by the Nutcracker cast make this the party of the year. There is plenty for both boys and girls to enjoy. Tickets are available as an add-on with Nutcracker tickets, or as a stand-alone event.  
 
Dozens of local dancers perform alongside the professionals from Eugene Ballet. The local cast Director is Amber Barnes. This specific production of The Nutcracker holds a special place in her heart, because she was once a child in the production. "The current ballet mistress was the Sugar Plum Fairy when I was cast as a local student, and I absolutely adored her. So it is pretty special to be involved with a company with such a long-standing tradition of classical ballet and to have it come full circle, not only for myself but for the dancers in the company," Barnes said.  
 
Jewett Auditorium is located on The College of Idaho Campus at 2112 Cleveland Blvd. Caldwell ID.  Enter the parking lot at 20th and Fillmore. Additional parking is available at Oak and Indiana or on surrounding streets.  
 
Order tickets at www.caldwellfinearts.org or 208-459-5275.