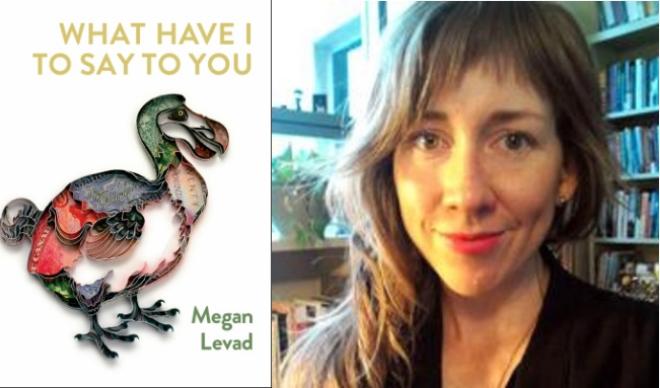 San Francisco-based poet Megan Levad will visit The College of Idaho this April to present a reading from her most recent book, "What Have I to Say to You," at 7 p.m. on Wednesday, April 4 at the Cruzen-Murray Library Presentation Room.
Named a MacDowell Fellow in the summer of 2017, Levad has published two books of poetry through Tavern Books, "What Have I to Say to You" in 2017 and "Why We Live in the Dark Ages" in 2015. Her work has also appeared in multiple publications, including the Academy of American Poets' Poem-a-Day, Tin House, Boston Review, Granta Online and Fence, as well as the Everyman's Library anthology "Killer Verse."
In addition to her work in poetry, Levad has also served as a lyricist, premiering her first opera "Kept" in May 2017 at the Virginia Arts Festival alongside composer Kristin Kuster.
Levad will visit the C of I on April 4 to read excerpts from "What Have I to Say to You," and will appear at MING Studios in Boise at 7:30 p.m. on April 6 alongside Boise State University MFA student Dan Lau.
In an interview with The Paris Review in January, Levad called "What Have I to Say to You" her attempt at writing "love poems that are honest."
"I haven't read a lot of honest love poems," Levad said. "A lot of beautiful ones, yes, but we poets tend to get so wrapped up in beauty that we not only objectify our beloved, we then wander away from that object because it's not interesting enough to us without our fancies memorializing it."
C of I English Professor Diane Raptosh, who helped arrange Levad's visit, had praise for Levad's most recent work. "Her book has about it a great tenderness, as well as the moments of mischief and subversion," Raptosh said. "She has a wonderful touch — and it is quite singular."
Levad's appearances at Cruzen-Murray and at MING Studios are both free to attend and open to the public. For more information about Levad's work, visit her website at www.meganlevad.com.
The College of Idaho has a 127-year-old legacy of excellence. The C of I is known for its outstanding academic programs, winning athletics tradition and history of producing successful graduates, including seven Rhodes Scholars, three governors, four NFL players and countless business leaders and innovators. Its distinctive PEAK Curriculum challenges students to attain competency in the four knowledge peaks of humanities, natural sciences, social sciences and a professional field—empowering them to earn a major and three minors in four years. The College's close-knit, residential campus is located in Caldwell, where its proximity both to Boise and to the world-class outdoor activities of southwest Idaho's mountains and rivers offers unique opportunities for learning beyond the classroom.  For more information, visit www.collegeofidaho.edu.