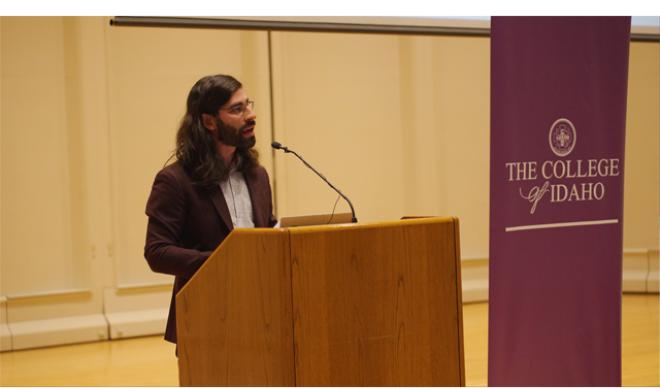 Dr. Stelios Panageotou knew that The College of Idaho has hosted political debates before.
But the assistant professor of political economy felt what was needed was discussion, not a debate, so he helped bring to life the College's first-ever Policy & Politics Forum last week at the Langroise Center for Performing & Fine Arts.
"The forum was unique in rejecting the traditional debate-style format for candidates and instead focusing on what matters most for a democracy," Panageotou said. "Informing the electorate and encouraging their participation and dialogue."
Standing in front of an engaged crowd of staff, students, and community members inside the Langroise Recital Hall on Thursday, Panageotou said the point of the event was to listen rather than to simply wait for a turn to speak. Over the course of the afternoon, the event's organizers felt that objective was reached.
"Overall, we demonstrated that civil discourse over controversial issues is possible," Panageotou said after the forum concluded. "We created a space that actualized, if only for a brief time, what it takes to have a healthy democracy."
The forum consisted of three topics that are critical in Idaho: tax and education policy, development of affordable housing, and contextualizing the significance of the Dobbs decision (where the Supreme Court recently overturned the Roe v. Wade decision). The panels consisted not just of political leaders, but also community leaders impacted by the topics. Each panel concluded with a real-time question and answer session where people in attendance were able to actively participate in the forum. Closing remarks were offered Butch Otter, the former Governor of Idaho, who graduated from the College in 1967.
Panageotou says the intent is to host forums every two years in conjunction with political cycles with plans already in place for an event in 2024, when the country will host its next presidential election.
"We believe forums like this are essential to having an informed electorate who can navigate the complexity of today's political landscape at the local, state and national levels," he said. "Who knows what issues will be most pressing then, but one thing we can be certain about is that The College of Idaho will be prepared to tackle them and create a space to think through them as a democratic collective."
To view images from the College's Policy & Politics Forum, click here.
The College of Idaho has a 131-year-old legacy of excellence. The College is known for its outstanding academic programs, winning athletics tradition, and history of producing successful graduates, including seven Rhodes Scholars, three governors, and countless business leaders and innovators. Its distinctive PEAK Curriculum challenges students to attain competency in the four knowledge peaks of humanities, natural sciences, social sciences, and a professional field—empowering them to earn a major and three minors in four years. The College's close-knit, residential campus is located in Caldwell, where its proximity both to Boise and to the world-class outdoor activities of southwest Idaho's mountains and rivers offers unique opportunities for learning beyond the classroom. For more information, visit www.collegeofidaho.edu.