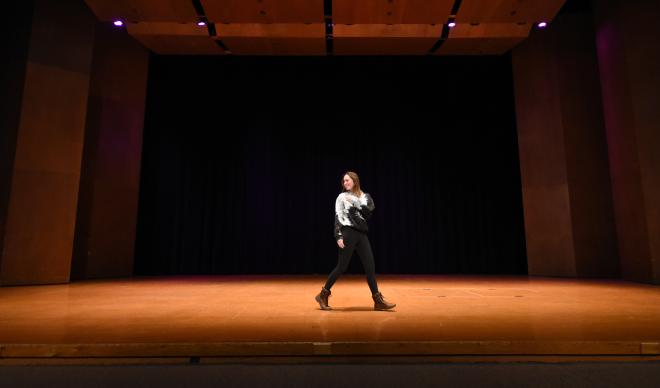 On Monday, Nov. 20, eight talented women of The College of Idaho will take a trip down the rabbit hole of Jewett Auditorium and enter into Wonderland in the name of charity as they compete for the title of "Miss C of I" at one of the school year's most entertaining student events.
Presented by the C of I's Kappa Lambda chapter of Sigma Chi, "Miss C of I" is a long-running annual event featuring female representatives from a number of student organizations, both Greek and non-Greek, competing to earn the eponymous crown through a combination of creative costumes, thrilling talents and astute answers to interview questions — but it's more than just a simple beauty pageant.
"Miss C of I represents The College of Idaho as a community," said Daniel Hernandez, a junior health science major and current community service chairman for Sigma Chi. "It represents the values of C of I and what we stand for, and how we want to create social change once we get out of College. We're looking for someone who best represents our school."
Moreover, the event is a major philanthropic event for Sigma Chi. While the event is free to attend, donations will be accepted at the door and throughout the event to raise money for the Utah-based Huntsman Cancer Institute, the fraternity's philanthropic partner since 2005. In 2015, Sigma Chi International Fraternity pledged to raise $10 million for the purpose of cancer research to the organization by the end of 2022.
The cause is close to Hernandez's heart. Years before joining Sigma Chi at the C of I, Hernandez's father was diagnosed with cancer. Although the family did not have insurance, they received coverage through the Huntsman Cancer Institute, who went on to pay for all the elder Hernandez's treatment options. Today, Hernandez's father is cancer free.
"Not only has cancer personally affected me and my family, it affects a lot of people around the country," Hernandez said. "I want to give back to an organization that helped treat my father and is saving a lot of lives. I really want us to be the generation to end cancer."
This year, the event has named its theme "Alice in Wonderland," bringing the colorful characters and extraordinary situations of Lewis Carroll's fantasy novel to the stage. Hernandez said the theme is meant in part to motivate the contestants and mirror their own journey to the goal of becoming "Miss C of I."
"Alice represents someone independent," Hernandez said. "She's her own woman, and she goes out and creates charge in her own world in her own trials she goes through in Wonderland. She gathers her identity from that."
This year, eight representatives from eight student organizations will vie for the title: Kathryn Crookham (Miss Gamma Phi Beta), Brinley Reed (Miss Kappa Alpha Theta), Paula Schneider (Miss Kappa Kappa Gamma), Annika Klein (Miss Sigma Epsilon), Lydia Rankin (Miss International Student Organization), Sierra Duarte (Miss Senate), Katie Growe (Miss Cheerleading), and Amya Rhoan (Miss Delta Tau Delta).
While all the ladies will entertain the crowd with talents like singing, dancing, stand-up comedy and lip-syncing, Hernandez said the event's role as a philanthropic drive will be emphasized throughout the night to encourage donations to Huntsman Cancer Institute.
"This is us doing our part to help others," Hernandez said.
Miss C of I begins at 8 p.m. on Nov. 20 in Jewett Auditorium. It is free to attend, but donations are encouraged.
The College of Idaho has a 125-year-old legacy of excellence. The C of I is known for its outstanding academic programs, winning athletics tradition and history of producing successful graduates, including seven Rhodes Scholars, three governors, four NFL players and countless business leaders and innovators. Its distinctive PEAK Curriculum challenges students to attain competency in the four knowledge peaks of humanities, natural sciences, social sciences and a professional field—empowering them to earn a major and three minors in four years. The College's close-knit, residential campus is located in Caldwell, where its proximity both to Boise and to the world-class outdoor activities of southwest Idaho's mountains and rivers offers unique opportunities for learning beyond the classroom.  For more information, visit www.collegeofidaho.edu.