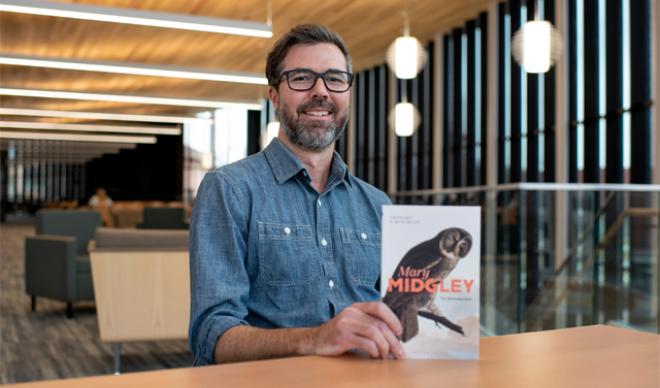 Mary Midgley had a profound ability to impact others with her philosophy, which included College of Idaho Professor Greg McElwain. So much so, the subject of his first book is centered on the late philosopher.
"She's probably the reason I'm in philosophy today," said McElwain, who teaches philosophy at the College.
The book is titled "Mary Midgley: An Introduction" and was released in November. It covers topics of morality, human nature, gender, animals, religion and science. McElwain's teachings at the College, specifically on animals and the environment, have matured through the topics Midgley contributed to throughout her life.
"My general specialties were always developing in conversation with Midgley, and that translates in the classroom," said McElwain. "By applying her methodology in working through problems and philosophy, you can absorb that way of thinking which is something we really try to instill at The College of Idaho."
There has been a spike in interest of Midgley's work since her passing in 2018. McElwain's book is supported by original interviews with the late philosopher and dives into the concepts of human nature and the connections with the natural world. The book is the first introduction to her philosophy and has received positive reviews from academic scholars around the world.
"Mary Midgley deserves to be recognized as one of the most interesting individual philosophical minds of the twentieth century. McElwain's book captures the personality of a thinker overflowing with ideas," said Rachael Wiseman, Lecturer in Philosophy, University of Liverpool, UK.
McElwain originally began writing the book as a continuation of his dissertation. But it morphed into something much more, becoming a comprehensive introduction into 40-plus years of Midgley's philosophical explorations.
It took McElwain eight years to gather interviews and background information for the book, one year of research, and an additional year of writing to complete it. He hopes readers take away not only an appreciation for Midgley and her philosophy, but also the ways philosophy can be practically used to engage the world and even transform it.  
"I never thought I would become the Midgley expert," said McElwain. "It's been a great journey."
The College of Idaho has a 128-year-old legacy of excellence. The C of I is known for its outstanding academic programs, winning athletics tradition and history of producing successful graduates, including seven Rhodes Scholars, three governors, and countless business leaders and innovators. Its distinctive PEAK Curriculum challenges students to attain competency in the four knowledge peaks of humanities, natural sciences, social sciences and a professional field—empowering them to earn a major and three minors in four years. The College's close-knit, residential campus is located in Caldwell, where its proximity both to Boise and to the world-class outdoor activities of southwest Idaho's mountains and rivers offers unique opportunities for learning beyond the classroom.  For more information, visit www.collegeofidaho.edu.