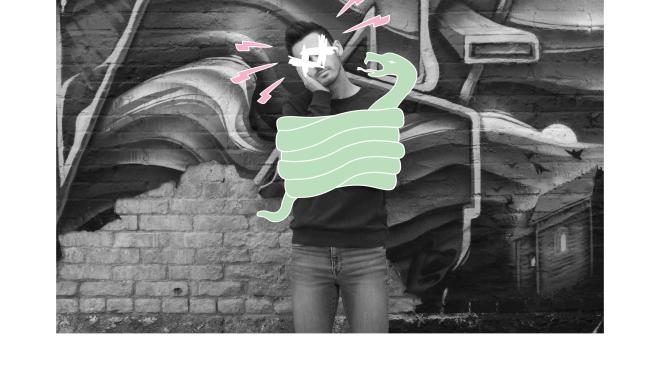 Matt McLaughlin, a graduating senior of the class of 2020, gives the saying "One Man Show," a whole new meaning.
He's a double-major in art and marketing and digital media, while also in his fourth year of competition with the Coyote Track and Field program. In addition, McLaughlin was also the hall director of Anderson Hall, the president of Art Society, and a member of the national leadership honor society Omicron Delta Kappa (ODK) – all while remaining at the top of his class. However, a long list of resume items doesn't tell the full story of what McLaughlin has been up to this year.
Each year, the College's art majors take a course that includes a senior exhibition. Each student is required to come up with a complete concept—from the artwork ideas, the presentation of the artwork, and the setup of the event. Typically, there are multiple art majors who all divvy up the responsibilities of setting up a single show where all of their artwork will be displayed. These tasks include fundraising, writing a press release and artist statements, organizing the catering, designing the layout of the exhibition, writing grants, publishing a website, and designing and printing the promotional material. However, McLaughlin was in a unique situation regarding his senior exhibition: he is the only graduating art major in the Class of 2020. This meant, since the beginning of his senior year, he has had all of the responsibilities for the senior exhibition. McLaughlin worked with his professor, Alice Vinson, to produce his "One Man Show."
McLaughlin and Vinson first met before his freshman year when he came to the College for a talent scholarship interview. During the interviews, students showed portfolios of their artwork. McLaughlin's portfolio included a project which featured text. Vinson specifically remembered this "exquisite piece" that stood out from other artwork. She asked McLaughlin what the connection was between the text and the artwork—he paused to think of a response. "There isn't one," McLaughlin responded. Vinson's mentorship to McLaughlin started right at that moment. Vinson went on to explain to McLaughlin that if there is text in the artwork, there should be some sort of connection. McLaughlin recalls this conversation as more of an interrogation. He said that Vinson asked questions he had never pondered before. She was "inquisitive and questioned everything about his artwork," McLaughlin remembered. He says that conversation has stuck with him throughout his four years at the College. Not only has it stuck with him, but it has inspired him and is now the center of many of his pieces.
McLaughlin and Vinson's relationship started to develop further at the beginning of his junior year. When it came to creating the artwork McLaughlin desired, he'd always held a part of himself back. He wasn't comfortable with pushing boundaries. Vinson's mentorship over the next two years was crucial in empowering McLaughlin to push boundaries and create more fulfilling artwork. For example, in his Digital Imaging course, McLaughlin presented a series of nude photographs. He was hesitant to do so because no one else had a project encroaching those realms. Vinson told him that she knew he could do a beautiful job and if that's what he wanted to create, he should do so. So, he did. These photographs ended up being a "body" of artwork that makes him proud. According to McLaughlin, Vinson had a way of fostering his creativity like no one else.
When discussing his relationship with Vinson, McLaughlin said that she is not only a person he finds inspiring, but an artist who motivates him as well. He expressed his gratitude for Vinson, describing that he not only found an important mentor, but a great friend. McLaughlin said that if it were not for Vinson, he may not have even majored in art or marketing and digital media, let alone both. Vinson took the time to listen to him and understand where he was coming from when creating his artwork. McLaughlin says "Alice will psychoanalyze me to help me realize the meaning behind my artwork that I didn't even realize was there."
Along with the rest of the class of 2020, McLaughlin was devastated about relocating off-campus for the remainder of the term. Not only was McLaughlin missing out on moments with friends and professors for the remainder of the year, but he was also losing the remainder of his last track season. McLaughlin was projected to do well at nationals—he had worked hard all season to hopefully finish this season as his best. However, his track career ended abruptly with the cancellation of the season due to COVID-19. He also lost his job as a hall director and his place to live. McLaughlin spent his last few days on campus as a leader—helping classmates in his dorm move out and clean. Adding to the disappointment was the cancellation of the project he'd been pouring his blood, sweat and tears into: his one-man senior art show on campus. There is hope that his show could be displayed in the fall semester, but all plans have been put on hold until classes are officially being offered on campus again.
Vinson knew that she could not let McLaughlin's year's worth of work go unnoticed. So she took it upon herself to find an alternative for him. Vinson said that after classes were set to be held remotely, she joined multiple Facebook groups where art professors brainstormed non-traditional methods of conducting their courses. She knew there were virtual methods of showcasing artwork online, but nothing she saw was an adequate platform to display McLaughlin's artwork. Vinson set out to find a better option. After more weeks researching, she finally found a platform that would allow for the creation of a 3D virtual exhibition that was up to her standards. However, this software was created in Germany and all of the instructions, and information, were written in German, causing several obstacles. She had several bouts of trial and error before finally getting the exhibition successfully set up.
Although Vinson stresses that this is not the same as seeing McLaughlin's artwork in person, she did her best to make the virtual exhibition as close to the in-person version as possible. When the software is launched, the viewer can virtually walk through the gallery. All of McLaughlin's artwork is proportionately scaled and placed in a similar location as it would be if it were in the Rosenthal Gallery on campus. She did all of this work without McLaughlin knowing what she was up to.
Once it was finished, Vinson sent McLaughlin a message that they needed to meet about something serious. Instantly, McLaughlin thought, "Oh boy! What did I do now?" Anxious, he left one of his classes early to call her ahead of schedule. Vinson explained to McLaughlin how heartbroken she was that they didn't get to see his show come to fruition. She sent McLaughlin the link to his virtual exhibition and they walked through it together. McLaughlin instantly burst into tears because of how much this meant to him. McLaughlin had recently accepted that his dreams of having all of his friends and family in the same place to see his show were not going to happen. When Vinson showed him the virtual exhibition, much of the original excitement of his senior show returned.
When asked about the significance of this surprise, McLaughlin said, "I can't explain how much that meant to me. It was the nicest thing anyone has ever done for me. It was such a sentimental gift and you can't just buy something like that. She spent one month of her own time working on this for me. I can't put into words how much that affected me. I didn't feel like I deserved it."
Vinson felt McLaughlin was quite deserving of this effort to display his artwork, especially since he had already put so much work into an in-person show. "He's really an overachiever," she said. "Everything Matt has done in the past couple of years has all contributed to his work—I take no credit. Not only is this year's senior exhibition impressive, but he did everything by himself, beautifully and ahead of schedule."
Vinson describes McLaughlin's artwork this way:  "His work is very high-quality. What he produces is easily comparable to the work that is coming out of big universities with programs focused on graphic design. He works with typography, images, and photography—he's very well-rounded. His use of different digital mediums is impressive."
While it doesn't completely replace a physical, in-person show, Vinson was happy to see McLaughlin's artwork displayed in some form. "I was heartbroken about it not going up and I hope this makes an impact for him now, in some way," Vinson said.
"She will always have a very special place in my heart for all she's done for me," McLaughlin added. "She pushes people and gives everything she can to make people the best artists they can be—even if they don't see themselves as artists. I appreciate Alice more than she'll ever know."
The College of Idaho has a 129-year-old legacy of excellence. The College is known for its outstanding academic programs, winning athletics tradition and history of producing successful graduates, including seven Rhodes Scholars, three governors, and countless business leaders and innovators. Its distinctive PEAK Curriculum challenges students to attain competency in the four knowledge peaks of humanities, natural sciences, social sciences and a professional field—empowering them to earn a major and three minors in four years. The College's close-knit, residential campus is located in Caldwell, where its proximity both to Boise and to the world-class outdoor activities of southwest Idaho's mountains and rivers offers unique opportunities for learning beyond the classroom.  For more information, visit www.collegeofidaho.edu. 
Written by Marketing and Communications intern Ashlyn Pistey