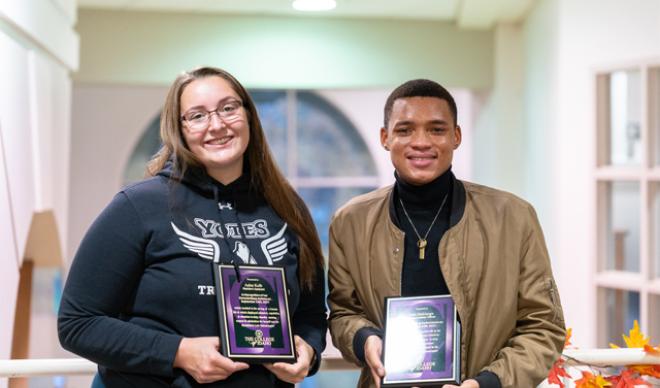 One day in September, two College of Idaho students were not expecting to need to think critically and respond quickly to aid a fellow student in distress, but that's what happened to Jens Mahlangu and AaLea Kolb. 
For their actions, the pair earned the Life-Saving Award, presented by Ben Mosely, the Director of Campus Safety.
Kolb, a resident assistant in Finney Hall, recognized a student in need of help and called Campus Safety. Mahlangu, the student officer on duty at the time, responded and was able to perform CPR to help the student.
The award presentation, held in the student senate chambers of the McCain Student Center, offered an opportunity to recognize the pair for their quick actions.
"We talk about being a small, close-knit family, and we are," Co-President Jim Everett told the attendees at the presentation. "But it's times like this, having people watch out for you in good times and bad is so critical. Thank you for what you do every day."
Everett's words of praise and thanks were met with applause from everyone in the room.
"Being a campus safety officer is, for me, in a situation like this, being able to help and protect the community as best as I could," said Mahlangu, a junior majoring in business. "It's exciting to know I can help in situations like this."
Kolb, a senior who is majoring in exercise science, offered similar sentiments.
"Through our R.A. (resident assistant) training I was more prepared for a situation like this," she said. "My R.A.s would always stop and say hi, talk to me, make me feel seen, so I want to be that person for other people."
Mosley says the College hasn't given this award in nearly a decade when campus safety officers used an automated external defibrillator (AED) on a person suffering a heart attack. In both instances, Mosley pointed out, the ultimate outcome was positive.
"We're lucky to have good people working for both our departments," Mosley said of Campus Safety and Residence Life. "I think I speak for Matt (Gier, the Director of Residence Life) when I say that this just demonstrates what a great team of folks we have taking care of people here at the College."
To learn more about the College's Campus Safety department, click here. Students interested in becoming an R.A. should click here.
The College of Idaho has a 130-year-old legacy of excellence. The College is known for its outstanding academic programs, winning athletics tradition and history of producing successful graduates, including seven Rhodes Scholars, three governors, and countless business leaders and innovators. Its distinctive PEAK Curriculum challenges students to attain competency in the four knowledge peaks of humanities, natural sciences, social sciences and a professional field—empowering them to earn a major and three minors in four years. The College's close-knit, residential campus is located in Caldwell, where its proximity both to Boise and to the world-class outdoor activities of southwest Idaho's mountains and rivers offers unique opportunities for learning beyond the classroom. For more information, visit www.collegeofidaho.edu.