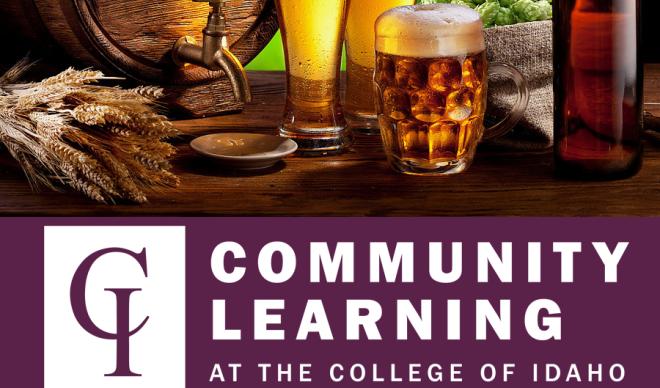 This spring, classes at The College of Idaho will be in session for more than just its enrolled students thanks to the College's Community Learning program, which will feature 28 exciting classes open to all members of the community.
The popular program will host a number of unique classes starting in February, allowing the community to continue exploring new hobbies and topics of interest in a relaxed and homework-free environment, led by C of I's faculty, staff and other expert instructors. From outdoor recreation and the arts to personal enrichment and professional development, the program's classes appeal to multiple interests across a variety of subjects.
Rebecca Wilhite, the College's director of special programs, said the program's spring offerings have proven both popular and timely, falling during a time when the weather is more agreeable and when there are fewer holidays or other obligations on people's schedules.
"The spring classes take place over a longer period of time, so we tend to see a lot more people interested in coming out and trying new things," Wilhite said. "And we have a lot of classes this term that I think will fill up fast."
One such addition to this year's schedule is the "CSI: Behind the Scenes," which will be held on March 8 and 15 and taught by C of I Director of Campus Safety Allan Laird '17. A spin-off from Community Learning's popular forensic science camps for kids and teens, this class will mark the first year the program is offering a class for adults in the basics of crime scene investigation.
"The classes for the kids have always filled up quickly, and we've gotten so many requests from adults who wanted to take the class themselves," Wilhite said. "Now they have that opportunity."
Another new course set to appeal to the adult crowds is "Beer-Brewing for Beginners," held on April 10 and 17 by Mike Francis, the founder of Payette Brewing Company. A hobby growing in popularity, Francis will lead classes through the basics of home brewing, from wort production to packaging.
"Boise is a great area for brewing, and I think this class will see a lot of interest," Wilhite said.
On the professional development side, the Community Learning program is reaching out to local businesses to participate in its Executive Education Program, including Developing Managerial Effectiveness retreat in Sun Valley, Idaho from May 6-11 and Supervision Leadership Camps led by Ron Melchiorre in sessions throughout the spring.
Beyond the courses being offered in person, the program also allows access to over 100 online courses, including classes in business communication, technology skills and new media marketing.
For a full list of offered classes and to register, visit www.cofifun.com.
The College of Idaho has a 125-year-old legacy of excellence. The C of I is known for its outstanding academic programs, winning athletics tradition and history of producing successful graduates, including seven Rhodes Scholars, three governors, four NFL players and countless business leaders and innovators. Its distinctive PEAK Curriculum challenges students to attain competency in the four knowledge peaks of humanities, natural sciences, social sciences and a professional field—empowering them to earn a major and three minors in four years. The College's close-knit, residential campus is located in Caldwell, where its proximity both to Boise and to the world-class outdoor activities of southwest Idaho's mountains and rivers offers unique opportunities for learning beyond the classroom.  For more information, visit www.collegeofidaho.edu.