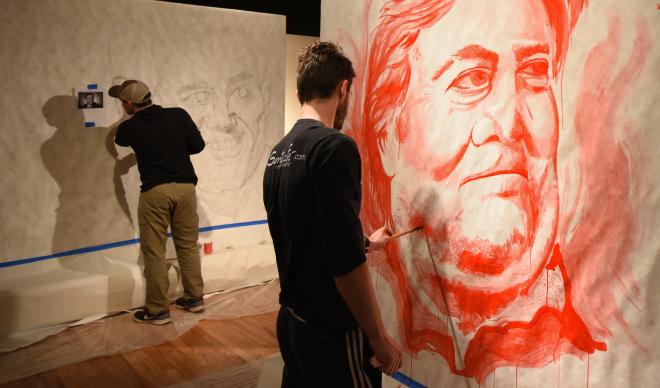 Boise-based artist Bryan Anthony Moore stood in the center of the College of Idaho's Rosenthal Gallery of Art, sipping on an afternoon coffee as he watched his C of I student assistants trace portrait sketches of various celebrities and political figures on the gallery's Tyvek-covered walls. He complimented one student's likeness of Oprah Winfrey while a student on an opposite wall painted a bright red portrait of Steve Bannon.
Most of the walls in the gallery remained blank, as this was only day one of Moore's ongoing exhibition at the gallery, Brazen Bull: A Natural Mythstory of North America. By the time Moore's exhibition closes in April, the walls are expected to be completely lined with his vision of combining American historical figures with inspirations directly from exhibits from the College's Orma J. Smith Museum of Natural History. It is a process the gallery's visitors are invited to watch throughout his stay.
"We've had some unusual exhibitions in the gallery, but we haven't had anything quite like this where the exhibition consists of a process in making the art," said Garth Claassen, C of I professor of art and director of the Rosenthal Art Gallery. "Bryan makes very powerful images, and it initiates a sort of dialogue, but we have not had a situation where it's been more than just a gallery talk."
While many of the exhibits the Rosenthal Gallery has shown in previous years have consisted of art already completed, Moore's exhibit serves as a cross between installation and performance. Moore's officially began work on the exhibit on Jan. 17 and he expects it last through much of the College's 2018 Spring Semester. Throughout the length of the exhibit, Moore will spend time in the gallery regularly working on his illustrations, drawing directly on the gallery's walls while he interacts with visitors.
"I do have a day job, so I won't be in here every day, but I hope to be in here every week," Moore said. "It's designed to be performative and interactive, and people are welcome to come in and have a dialogue. There are meant to be all sorts of different entries into the work, so the conversations I have as I'm working might become part of the work itself."
Moore, a master's graduate of New York City's School of Visual Arts in art practice, has held several exhibitions within the Treasure Valley following his undergraduate studies at Boise State University, including residencies with 8th Street Marketplace, Eagle Performing Arts Center and Ming Studios. Moore's work is known for its absurdist approach to imagery, juxtaposing mythology with the visual languages of natural history. 
Moore's exhibit at C of I will draw from elements of natural history along with American historical and political themes, using visual metaphors like dinosaurs and other creatures of the past to emphasize what he calls the "American mythos," which deifies figures like Abraham Lincoln and George Washington on the same levels as Zeus or Jesus Christ. He said his work functions as a commentary and satire on the subjectivity of history and the evolution of nostalgia into myth.
"The nationalist history about your own country is very seldom taught in an objective manner," Moore said. "Both natural history and nationalist history have this sort of mythical time they exist in. If we talk about something that happened last week, we're probably on the same page. But if you go back into really deep time, there's this sort of national mythos, where you can make it whatever you want it to be because it was such a different period."
As the exhibit continues to take shape, Moore will function partly as an artist-in-residence, using the gallery space as a worksite while working with some of the College's art students. Claassen said part of the appeal of the exhibit for him is the chance for his students to work with and learn from Moore as he works, similar to how the College's science students have the opportunity to work alongside faculty members as student researchers.
"Students seldom have the opportunity to interact as artists with other professionals," Claassen said. "To actually have the opportunity to be part of the process of making an exhibition is very exciting. If we can make something like this show into an art equivalent of student research, then that to me is a real plus, and really well timed ahead of the senior students' exhibition at the end of the spring."
Claassen said he and Moore hope to arrange opportunities for special events during the length of the exhibition, inviting interaction with students and faculty of different disciplines to discuss the work and apply their own critical lens to the production.
"We've done shows where people have an opening and closing, and then that's it," Claassen said. "With this, I think it would be nice to have a more sustained sort of engagement. I think it's exploring the sort of role the Rosenthal Gallery can play on campus in more than just art."
The Rosenthal Gallery of Art is open from 10 a.m. through 5 p.m. on weekdays during exhibitions. It is free to visit.
The College of Idaho has a 125-year-old legacy of excellence. The C of I is known for its outstanding academic programs, winning athletics tradition and history of producing successful graduates, including seven Rhodes Scholars, three governors, four NFL players and countless business leaders and innovators. Its distinctive PEAK Curriculum challenges students to attain competency in the four knowledge peaks of humanities, natural sciences, social sciences and a professional field—empowering them to earn a major and three minors in four years. The College's close-knit, residential campus is located in Caldwell, where its proximity both to Boise and to the world-class outdoor activities of southwest Idaho's mountains and rivers offers unique opportunities for learning beyond the classroom.  For more information, visit www.collegeofidaho.edu.