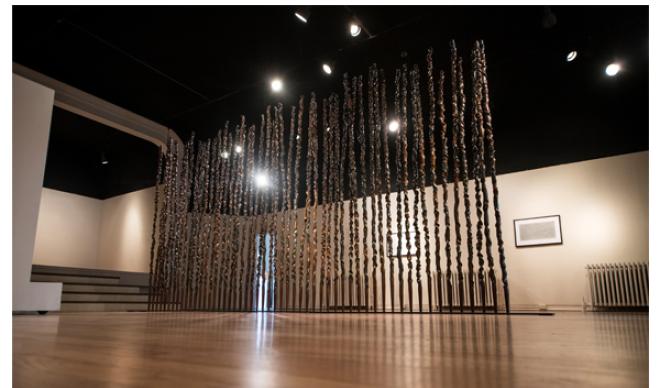 When Michael Cordell was a 17-year-old in the Navy he packed up his photography equipment and set out for Japan but, much like the students at The College of Idaho, he was a versatile student and sought to expand his study of art beyond photography.
Many years after leaving for Japan, Cordell is now an accomplished Boise artist with his signature metal sculptures scattered around the valley in residential and commercial areas. College of Idaho students have the great opportunity to experience Cordell's body of work in the Rosenthal Gallery of Art in Blatchley Hall. The show consists of abstract metal sculptures and graphite drawings and can be viewed from until April 5.
Although Cordell was expecting to capture some inspiring photographic images in Japan, he began to transform and recalls that, "over the years photography left me. The digital revolution made the equipment expensive and it was constantly changing; the quality wasn't there." With the help and inspiration of a few of his professional blacksmith friends Cordell said he began to be exposed to the expressive capabilities of steel.
Cordell's art attempts to push the boundaries of what a drawing is and, at the same time, is an exploration of what one can do with steel. Using a power hammer, anvil, and various forges, Cordell uses the heat and strength of his tools to investigate abstraction by creating distortions that give viewers a unique experience. Sometimes the different styles of art bleed into each other as his pen and hammer drift into shapes. At the center of the exhibit is Cordell's most recent piece of work, a series of long and slender twisted vertical metal pipes. Its completion took over four years and now functions as the spine of the exhibit at Rosenthal Gallery. Cordell still stands back to admire this piece feeling proud and relieved that he could finally get it out of his head.
Rosenthal Gallery has been an opportunistic venue for not only local artists but also the students at The College of Idaho. Dr. Garth Claassen, who helps put on art exhibits at the Gallery, says that for students, "the opportunity to see original art on campus, and to meet the artists is very valuable. You might be surprised how many students, even some art students, have never been inside an art gallery or museum. Most have, but quite a few haven't."
Given Cordell's experience in a number of artistic environments, he can offer valuable advice to other local artists and young College of Idaho students.
For local artists in the Treasure Valley seeking funding and support for their art, Cordell points to the Alexa Rose Foundation which seeks local cultural workers in an array of artistic fields. Two other organizations to seek out are the Idaho Commission on the Arts and the James Castle House, named after local genius and now nationally renowned artist James Castle, which offers residency to local artists.
Above all, Michael Cordell believes self-motivation led him to success and the actualization his ideas.
"We are in a golden age of building," Cordell says. "Despite the advances in the digital realm there has never been so much handmade work. If you can find a path and work on it, it will take you some place fantastic."
The College of Idaho has a 128-year-old legacy of excellence. The C of I is known for its outstanding academic programs, winning athletics tradition and history of producing successful graduates, including seven Rhodes Scholars, three governors, and countless business leaders and innovators. Its distinctive PEAK Curriculum challenges students to attain competency in the four knowledge peaks of humanities, natural sciences, social sciences and a professional field—empowering them to earn a major and three minors in four years. The College's close-knit, residential campus is located in Caldwell, where its proximity both to Boise and to the world-class outdoor activities of southwest Idaho's mountains and rivers offers unique opportunities for learning beyond the classroom.  For more information, visit www.collegeofidaho.edu. 
Story submitted by Tallon Howie, C of I Marketing and Communications Intern