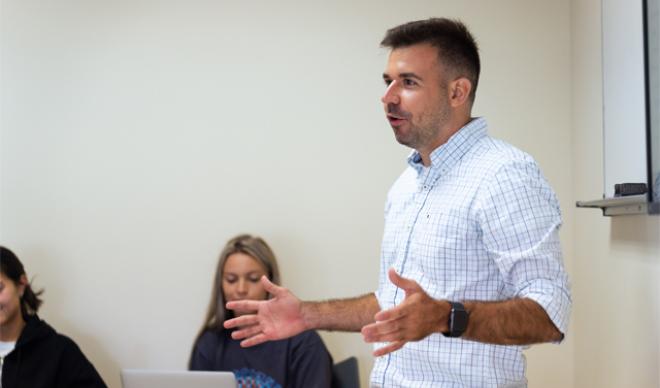 A few years ago, Yan-Cesar Gioseffi '14 was a member of the Sport Administration Ph.D. program at the University of New Mexico. His undergraduate alma mater, The College of Idaho, was kicking around ideas about starting some form of a similar program and one of his mentors from his time in Caldwell, Dr. Marilyn Melchiorre, casually asked him some questions.
A short time later, the College decided to begin its own graduate-level Sport Administration certificate program. Melchiorre suggested Gioseffi should apply for a teaching position with the program.
And that's how Gioseffi, the business administration major who competed for the College's soccer team almost a decade ago, ended up back at his alma mater as a key instructor and leader for the fledgling program.
Now in year two, the program has doubled its enrollment with additional room to grow and has earned high interest on campus.
"It is aimed for people to explore the areas within sport management," Gioseffi said of the program. "Coaching is one of them but we also do marketing, we also do finance. It's pretty much any area within athletics. The program is to explore different areas within athletics and see what is the best fit."
The one-year certificate program graduated six students last spring. There are 14 enrolled this year, all of whom are students who have already received their undergraduate degrees and have eligibility remaining in their chosen sport. Of those enrolled, 13 graduated from the College and one transferred in to participate in football while completing this program. The idea is to recruit more external students from outside institutions in future years. While the program isn't limited to athletes in any way, the appeal to students who participate in competitive sports is understandable.
"It encourages the students to get done in four years. Go ahead and graduate, get your degree, and then we have another option for you for continuing education," said Lori Tucker, a visiting assistant professor in the business department who also teaches in the program. "It's a lot of small-group discussions on real-life applications."
Both Tucker and Gioseffi have real-life experience, too. Gioseffi was a college-level athlete, exposed to the day-to-day life of athletics. Tucker, before transitioning to higher education, had been a coach and athletic director. The pair bring experience and practicality to the program.
"Most of athletics is not within the 'Big Five' (NFL, NBA, MLB, NHL, MLS)," Gioseffi explained of the sports scene in the United States. "The person who runs the sporting goods shop down the street, that's sport administration. The person organizing group runs, that's parks and recreation. That's all sports administration."
At this point, the program brushes with broad strokes. It's a one-year curriculum that includes classes in management, finance, marketing, and ethics. The student is required to perform a professional internship. Gioseffi says the College has made some adjustments to the program, learning from its experiences in the first year of existence, but the end goal remains the same.
"I'd love to see people out in the field who have earned their degree from us, working for sports teams, working in athletic departments," Gioseffi said.
The classes are already getting attention on campus. Gioseffi said several undergraduate students were reaching out to see if they could enroll in the courses this fall as undergrads, which they cannot. One of the course requirements of getting a business degree from the College is Business 100, Introduction to Business. According to Melchiorre, who chairs the department, the College now offers three sections of Business 100 and an additional section of Business 101, Introduction to Sport Management, which fulfills the same requirement. Statistically speaking, business is the most popular major at the College, so demand for Business 100 is always high. But it's especially high for Business 101 – this fall's Business 101 course on sport management had a waiting list of 22 students.
"The interest is there," Gioseffi concluded. "And the jobs are there, too."
The College of Idaho has a 131-year-old legacy of excellence. The College is known for its outstanding academic programs, winning athletics tradition, and history of producing successful graduates, including seven Rhodes Scholars, three governors, and countless business leaders and innovators. Its distinctive PEAK Curriculum challenges students to attain competency in the four knowledge peaks of humanities, natural sciences, social sciences, and a professional field—empowering them to earn a major and three minors in four years. The College's close-knit, residential campus is located in Caldwell, where its proximity both to Boise and to the world-class outdoor activities of southwest Idaho's mountains and rivers offers unique opportunities for learning beyond the classroom. For more information, visit www.collegeofidaho.edu.