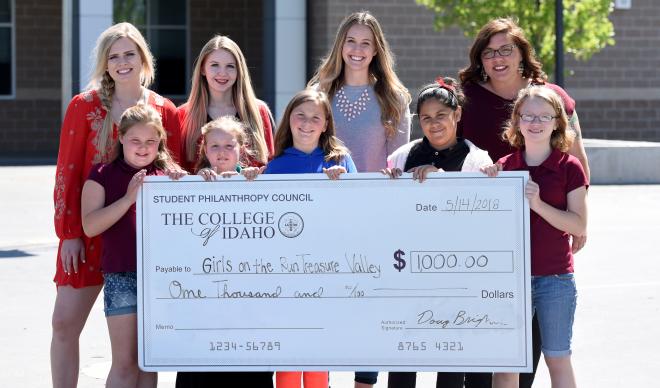 Since 2006, The College of Idaho's Student Philanthropy Council has done its part to improve the Treasure Valley community via grant funding and investment earnings from the Seagraves Family Foundation. This year's council has continued the 12-year tradition of giving, distributing $13,000 in funding to 13 local charitable organizations this month.
Following one of the council's highest giving years to date in 2017, this year's council supplied an even greater amount of funding this year, choosing 13 organizations to receive $1,000 each from a record 27 grant applications overall — double the number of applications the council usually receives each year.
"As a group, we sent out tons of letters to non-profit organizations around the Treasure Valley," said C of I senior and outgoing SPC president Alexandra Runnoe. "We still were surprised at the huge response we received, and we were happy to help as many of them as we could."
Runnoe said the 14-member council, which features representatives from all classes and a variety of majors, went on numerous site visits to several of the organizations during the consideration process, allowing the council to see the positive impact the organizations were making — and the needs each organization had — with their own eyes.
"It was the first year the council did site visits like that, and it was really awesome," Runnoe said. "When you actually go to these places you're helping, it helps you see how philanthropy really makes a difference."
Runnoe and other members of the council visited three of the organizations on May 14 to deliver checks and check-in with their leaders, including Advocates Against Family Violence, Caldwell Meals on Wheels, and Girls on the Run at Van Buren Elementary School.
Julie Warwick, a coordinator for Caldwell Meals on Wheels, said the council's grant would allow the program to continue with its day-to-day functions in distributing nutritious, low-cost meals for the elderly and others unable to provide meals for themselves.
"We help over 100 clients at our location," Warwick said. "This gift helps keep us self-sustaining and allows us to keep doing what we're doing."
Jenna Zamora, now in her second year as a coach for Van Buren Elementary's Girls on the Run, said the $1,000 the school's program received would help provide scholarships for additional students to participate in the non-competitive, running-based after school program for 3rd-5th grade girls, as well as help cover costs for the program's annual 5K run.
"This is a great program for these girls," Zamora said. "It teaches them more than just running. It gives them skills and lessons they can hone for a long time and the confidence to become the shining stars they know they can be."
Other organizations receiving funding this cycle through the SPC include Make-a-Wish Idaho, The Mentoring Network, The House Next Door, Metro Community Services, Community Cakes, Aquability Inc., the Family Justice Center Foundation of Idaho, Friends of the MK Nature Center, Kids First Cast, and Hands of Hope Northwest.
Runnoe said although she is graduating, she is excited to see the SPC continue the mission the Seagraves family championed, and she expects the council to continue to grow into a positive presence with increased recognition on campus through additional community service.
"It's because of their ideals that the council is here today, and we want to honor that by doing more around our community," Runnoe said.
The College of Idaho has a 127-year-old legacy of excellence. The C of I is known for its outstanding academic programs, winning athletics tradition and history of producing successful graduates, including seven Rhodes Scholars, three governors and countless business leaders and innovators. Its distinctive PEAK Curriculum challenges students to attain competency in the four knowledge peaks of humanities, natural sciences, social sciences and a professional field—empowering them to earn a major and three minors in four years. The College's close-knit, residential campus is located in Caldwell, where its proximity both to Boise and to the world-class outdoor activities of southwest Idaho's mountains and rivers offers unique opportunities for learning beyond the classroom.  For more information, visit www.collegeofidaho.edu.