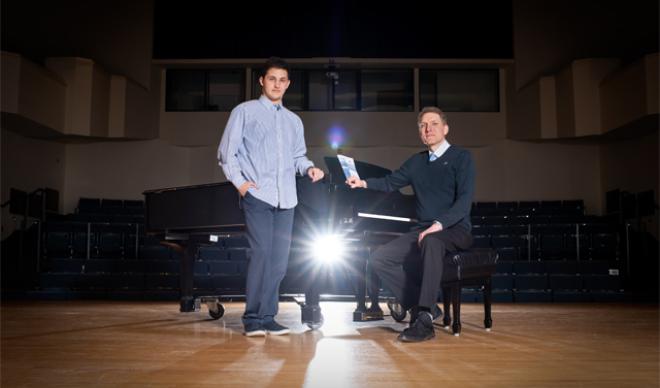 When Brent Wells talks about one of the choirs at The College of Idaho performing a song, he says he looks for music that his students will engage with.
A suggestion from one of his students led to that engagement which, in turn, helped to create a published song that is being performed by choirs throughout the country.
"You always want the group to find a sense of buy-in with the music you pick," said Wells, the director of choral activities and associate professor of music at the College. "When the piece comes from one of their own and they recognize that this represents one of their peers and it also represents one of the cultures here on the College's campus that many of us aren't familiar with, to feel like we're paying honor to Erekle, to his homeland, to his people, to a musical tradition we're not familiar with, the choir got very excited about that process."
The process Wells is talking about began in the spring of 2018, when one of his students, Erekle Vakhramovi, suggested a folksong from his home country of Georgia for the annual World of Song concert. Two years later, that folksong, "Suliko," is now a published choral arrangement that is being sung in places far from the country of Georgia, a former republic of the Soviet Union near Turkey.
Vakhramovi mentioned the folksong to Wells in an email and the two set out to turn the 12-stanza poem and accompanying melody into a choral piece. Vakhramovi says it's a very popular poem in Georgia, telling the story of a man who is searching for the spirit of his lost love, who has died. He searches everywhere before a bird tells him the spirit of his lost love is all around him, in the flowers and in the stars. The poem was turned into a folksong decades ago and became a favorite of Soviet leader Joseph Stalin. Then, as the Soviet Union crumbled, the people of Georgia used the song as it gained independence.
"The idea of true love and the bird became 'freedom' instead of the song just being romantic," said Vakhramovi, a junior who is double-majoring in international political economy and creative writing. "So it has a dual meaning of first being a romantic song and, later, becoming more of a song about national interest instead of just love."
Wells and Vakhramovi trimmed the poem from twelve stanzas to three and then worked on a poetic translation to match with music that Wells composed for the World of Song concert. Vakhramovi sang the song's solo part in the concert.
"I had never really worked with anybody on a song and, to the best of my knowledge, Suliko had never been transcribed for an SATB (soprano, alto, tenor, bass) choir," Vakhramovi said. "It was really meaningful to me because it makes me proud that, elsewhere, people care about my country and its path toward democracy."
Wells had a colleague at Walton Music, a prestigious music publishing company, who suggested that he submit the song for possible publication. Submitting the song was no guarantee. It's a difficult process where the song must gain approval of a panel of talented choral directors.
The song was selected for publication and recently was officially published after a long process. Wells credited Vahkramovi in the song's preface so choirs that sing the piece understand where the song came from. Vahkramovi also made a spoken track of the entire song in Georgian so choirs can perform the song in its native language if they so choose.
Wells said the song is being sung, too. Choirs from Michigan State University, Ohio University, and Brigham Young University are just a few that have performed Suliko.
Wells is working with another student this spring, Aspram Kharatyan, to compose an Armenian lullaby into a choral arrangement for a future concert.
"The thing I like about the process is the whole point about the World of Song—to make us more aware of other cultures and of the traditions of other people and what other communities treasure," Wells said. "So whether that's from Kenya, Georgia, or Taiwan, we want to be able to sample this global culture of beautiful music and art."
Vakhramovi hasn't been home since 2017. There is unrest in the country and he doesn't feel that it's safe for him at this point. But his family still lives there and he's still very proud to tell people where he's from.
"There has been a lot of support from The College of Idaho that has allowed me to focus on the positives of how I can represent myself the best, how I can represent my country the best and showcase the rich culture that Georgia has and what prospects it has internationally," he said.
Click here to listen to the BYU Singers perform "Suliko"
The College of Idaho has a 129-year-old legacy of excellence. The College is known for its outstanding academic programs, winning athletics tradition and history of producing successful graduates, including seven Rhodes Scholars, three governors, and countless business leaders and innovators. Its distinctive PEAK Curriculum challenges students to attain competency in the four knowledge peaks of humanities, natural sciences, social sciences and a professional field—empowering them to earn a major and three minors in four years. The College's close-knit, residential campus is located in Caldwell, where its proximity both to Boise and to the world-class outdoor activities of southwest Idaho's mountains and rivers offers unique opportunities for learning beyond the classroom.  For more information, visit www.collegeofidaho.edu.