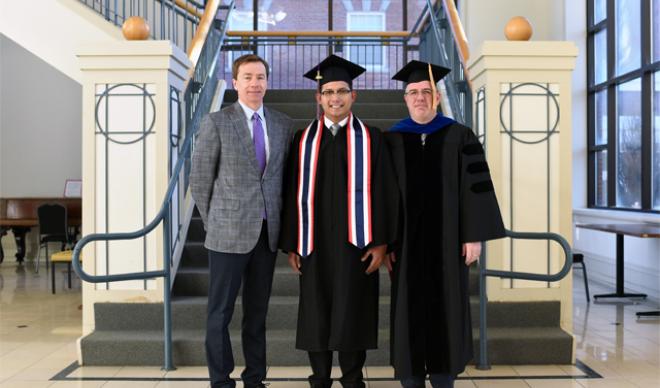 When senior Mahaday Sulong turned in his final term paper for his political economy senior seminar class on Monday, he became the first person to graduate from The College of Idaho in 2020.
The paper, turned in to Professor Rob Dayley, constituted his final academic requirement for graduation. His degree is in International Political Economy from the College. Since he won't be here in May to attend Commencement, Professor Dayley and Co-President Doug Brigham joined him in a personalized commencement ceremony on campus. He also wore his cap and gown on a snowshoeing trip during the winter break, where he posed for a photo with Co-President Jim Everett.
Sulong needed to finish so he could return to his home country of Thailand in time for a mandatory military drawing that takes place in April. Sulong said he'll draw either red or black. If he draws red, he'll serve a year in the Thai military before entering graduate school. The drawing only happens one time per year so, if he didn't return home this spring, he wouldn't be eligible again for the drawing until next spring.
"If you get the red one, you have to serve in the military. If you get the black one, you're finished (with the military commitment), you're done," Sulong said. "I want to finish my military service first and then I can continue with my master's degree."
Normally, the commitment is for two years. Sulong said he completed one year of his commitment between high school and enrolling at his United World College school in Hong Kong before coming to the College, so he only has one year left to serve. He said, if drawn, he'll serve within the country as needed for a year before moving on.
The College of Idaho has a 129-year-old legacy of excellence. The College is known for its outstanding academic programs, winning athletics tradition and history of producing successful graduates, including seven Rhodes Scholars, three governors, and countless business leaders and innovators. Its distinctive PEAK Curriculum challenges students to attain competency in the four knowledge peaks of humanities, natural sciences, social sciences and a professional field—empowering them to earn a major and three minors in four years. The College's close-knit, residential campus is located in Caldwell, where its proximity both to Boise and to the world-class outdoor activities of southwest Idaho's mountains and rivers offers unique opportunities for learning beyond the classroom.  For more information, visit www.collegeofidaho.edu.