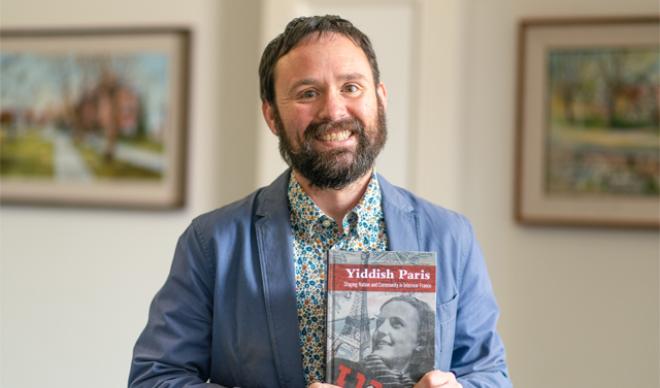 After 10 years, a doctorate-level dissertation, more research, some re-writing, and then the publishing process, Dr. Nick Underwood admits he had a moment of excitement when he saw a physical copy of his first book.
"I'm still having that moment," joked Underwood, an assistant professor of history at the College and chair of the Judaic Studies program. "My wife is reading it and it is on her nightstand. Every time I pass by it, I think, 'I can't believe that book exists.' I still can't believe it is real."
The book, "Yiddish Paris: Staging Nation and Community in Interwar France," was published on March 1. Underwood has written several articles before but this book, which began with an exploratory research trip in 2011, was a much larger process. It was the theme of his dissertation and it involved revisions and restructures to make the transition to a book.
"It's not necessarily a textbook, it's more of a 'read' book, but it is a scholarly book," said Underwood. "It's very much focused on cultural institutions, academic institutions, theatre, choruses, and how they transplant eastern European Yiddish Jewish culture into France."
And there begins the story of how this book came to be. Yiddish itself is a language that dates back hundreds of years and was primarily spoken by eastern European Jews. Then, following World War I, Yiddish-speaking Jews began migrating west and bringing their language and their lifestyle with them. Around that time, Underwood explains, Yiddish was becoming more of a culture instead of just a language. As he began to investigate, he found there were virtually no published works about Yiddish Jews and the culture that grew out of a language.
"I wanted to figure out a way to do Yiddish. I wanted to figure out a way to keep me focused on France. Then, literally, from just two footnotes in previous scholars' work, I stumbled into this project," Underwood explained of how he decided to research this particular topic. "It was very challenging because the sources were in 12-13 different institutions in five different countries. All over the place. It was difficult because there wasn't a ton of scholarship on this group of people and then the difficulty in finding the sources to put this together."
New York, Frankfurt, Amsterdam, Jerusalem. Just some of the places Underwood traveled to research the book that is, literally, the first of its kind. "It was a real, wild chase to find the materials that I needed to put this whole thing together," he said.
As a result, there is now a resource available to teachers and readers about Yiddish-speaking migrants from Eastern Europe in Paris in between the 20th Century's two World Wars and how those emigrants created "a Yiddish diaspora nation in Western Europe and how they presented that nation to themselves and to others in France," according to the book's description.
Underwood may use portions of the book in his own teaching at the College at some point. It also seems likely that colleagues at different institutions and universities may use the text as an educational tool as well.
The book can be found on Amazon, the Indiana University Press, or Barnes and Noble, among others. It adds to an already-impressive list of publications on Underwood's resume, a list he'd like to grow in the future.
"Hopefully, going forward, it won't take me 10 years to write another book," he laughed.
The College of Idaho has a 131-year-old legacy of excellence. The College is known for its outstanding academic programs, winning athletics tradition, and history of producing successful graduates, including seven Rhodes Scholars, three governors, and countless business leaders and innovators. Its distinctive PEAK Curriculum challenges students to attain competency in the four knowledge peaks of humanities, natural sciences, social sciences, and a professional field—empowering them to earn a major and three minors in four years. The College's close-knit, residential campus is located in Caldwell, where its proximity both to Boise and to the world-class outdoor activities of southwest Idaho's mountains and rivers offers unique opportunities for learning beyond the classroom. For more information, visit www.collegeofidaho.edu.